Walmart: Refund checks are legitimate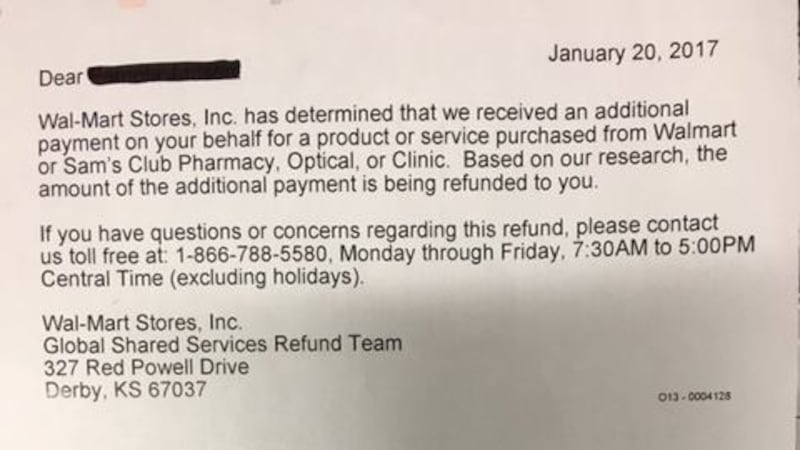 Published: Mar. 1, 2017 at 9:12 PM CST
Ashwaubenon Public Safety is facing criticism for warning the public about a scam which turned out to be legitimate refund checks from Walmart.
Walmart tells Action 2 News that checks from Walmart Global Shared Services Refund Team are legitimate, not a scam.
Action 2 News reached out to Walmart for a statement regarding a local police department's Facebook post claiming that cashing the check would make people vulnerable to scammers seeking bank account information.
However, the retailer says the checks are legitimate refunds for people overcharged for Walmart or Sam's Club services, such as the pharmacy or optical.
Ashwaubenon Public Safety posted an update on its Facebook page saying, "The information obtained by the original complaint was found to be inaccurate. If you have received these checks please cash them as normal. Sorry for any inconvenience. Special thanks to Walmart for their assistance."
The Better Business Bureau says it's easy to see how the mistake could happen.
"If somebody gets a check in the mail and they're not expecting it, I think that everybody's antenna goes up that 'This can't be... This must be too good to be true,'" said Susan Bach.
Bach's job as regional director at the Better Business Bureau is to identify and warn people about scams.
"We don't necessarily want to alarm people about scams that aren't real, but there are so many scams out there that I think it's better to warn people preemptively," she said.
The warning from Ashwaubenon Public Safety spread quickly, shared by several media outlets, including WBAY.
Investigator Robert Messer put out the information Wednesday afternoon and had to take it back Thursday morning.
"I've never had it where the scam turned out to be legitimate," he said. "We wanted to let the citizens in Brown County know about a possible scam so they're weren't taken advantage of."
Messer knows giving the public good information is important and thought he had enough evidence to write the post. He was also trying to get information out quickly.
"I think it is tough to weigh that out, but I think you have to put something out to protect the citizens," he said.
The company issued this statement:
"Walmart Global Shared Services is a division of Walmart, Inc., and issues refund checks. These checks are over-payments for services purchased from the pharmacy, vision center or care clinics in our stores. It's a refund customers are entitled to receive and should feel assured to cash them."
Messer said, "We need to be more diligent in confirming information and maybe not trusting stuff on the internet so much."