High school athletes waiting for spring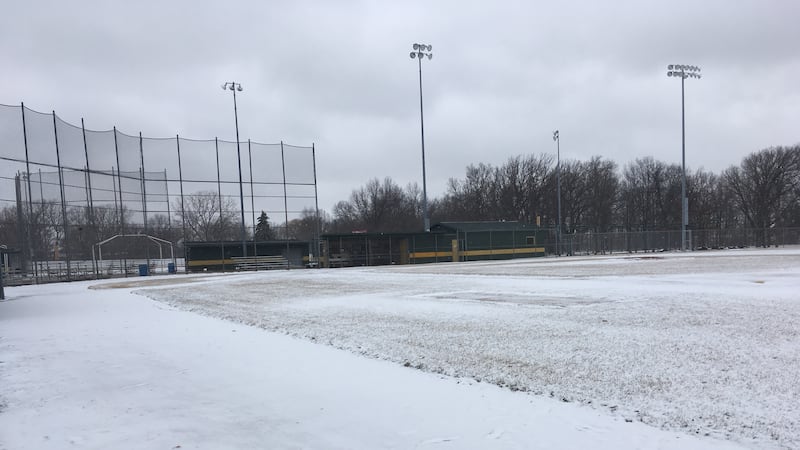 Published: Apr. 3, 2018 at 3:20 PM CDT
As co-circular administrator for the Green Bay Area Public School District, Tim Flood is not a fan of the winter-like start to April and the impact it's having on spring sports.
"If the sun doesn't come out and the temperatures don't rise a little bit more, then it could be a couple of weeks here," says Flood.
And that may be the best case scenario for local schools, which have already had to cancel spring sporting events.
Tuesday's snow storm could be just the start of a frustrating April for area athletes.
Athletic fields across Northeast Wisconsin are now covered in a blanket of snow, putting baseball, softball, track and other sports on hold.
And to make matters worse, arctic air is on the way for an extended visit.
"Not just the snow today, but the extended forecast with more cold weather on top of this, because getting this snow off the field is the next challenge because our kids want to get outside," says Nick Senger, Ashwaubenon High School Activities Director.
"When the temperatures stay low and the clouds are out there, the snow or the rain or the moisture stays in the ground, so it's hard to get out on the fields," adds Flood.
With every outdoor sports event likely canceled this week and next week, administrators say late April and early May will become very hectic for schools, coaches and student athletes.
"Rescheduling all these games and finding umpires and officials that are available, and then our season ends in the middle of May when we start the tournaments, so trying to cram all that in is a challenge," says Senger.
"Parks departments, schools, administration, whoever, it affects everybody, some years you get lucky, I remember a couple years ago we were playing baseball and softball in early to mid-March, and this year we're hoping for mid-April," says Rex Mehlberg, Ashwaubenon Parks, Recreation & Forestry Director.