Underground world: Target 2 reports from a human trafficking operation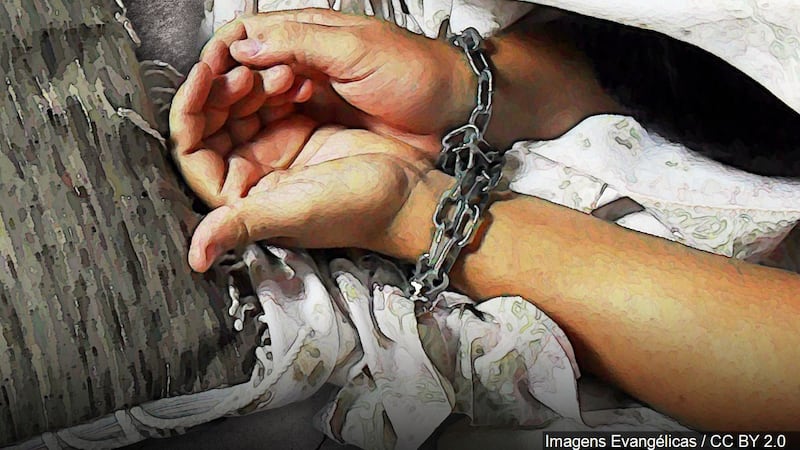 Published: Oct. 19, 2017 at 5:13 PM CDT
It's a rare, behind-the-scenes look at the underground world of human trafficking. Target 2 Investigates went along with local law enforcement as they made arrests and offered help to victims as part of a nationwide operation.
Nationwide, more than 80 minors were rescued from a life of being bought and sold for sex.
The Federal Bureau of Investigation says Operation Cross Country XI led to the recovery of 84 minors and the arrest of 120 traffickers between Oct. 12-15. The sting involved local, state, and federal authorities.
In Brown County, authorities arrested 16 people. The suspects were arrested for human trafficking, prostitution, and drug crimes.
Target 2 Investigates was there for the sting and the arrests. Here's what we learned:
Day One begins in a small room at the Brown County Sheriff's Office.
At 11:30 a.m., undercover officers post their first ad of the day. They're targeting "johns", the term used for men who respond to ads for sex.
Within five minutes, a response flashes on the screen.
Within 20 minutes, teams of officers from local, state, and federal agencies head to the meet location.
At 1:48 p.m., officers make their first arrest. It's a man from Stevens Point. Court records show he has a history of violating harassment restraining orders.
Thirty minutes later, a second arrest happens. It's a Green Bay man with prior charges of battery and sexual assault.
These are just two of the dozens of people messaging undercover officers, all within in a matter of hours.
"It's very typical. Easily, to post an ad online, and to get over 100 hits is not something unusual for us in one day. That just tells you the volume that's still out here," says Sgt. Matt Wilson, Brown County Sheriff's Office. "Even though we've been doing this. We've had multiple news stories, multiple press conferences, it's still happening. It's still pretty prevalent, so it just goes to show you that we've still got a lot of work to do. But we're just trying to put the wildfire out, if you will, for now."
The investigators say the lunch hour is a busy time of day.
"There are certain times during the day that we do see an increase. Your typically lunchtime, at night kind of thing," Sgt. Wilson says. "It's no secret. I'm not giving you trade secrets at this point, but it's during the lunchtime hour where people are free and available; on their way home from work. And then after boyfriend, girlfriend, wives, husbands are asleep, that's kind of when it picks up."
On Day Two, officers turn their focus on the supply side of human trafficking--the women who advertise sex online.
It's with these women that officers hope to make the biggest impact.
On a rainy Friday night, officers respond to an online ad for a woman advertising herself for sex.
Investigators quickly locate the woman. She is the exact person they're targeting in these human trafficking operations.
"We're trying to get the message out that, for the girls, there is other options out there," says Investigator Bob Messer, Ashwaubenon Public Safety. "This is not the life they need to be in."
One team searches the woman's car and questions a man with her. Deputy Trevor Bilgo of the Brown County Sheriff's Office takes a chance and starts a conversation with the woman.
"We can find you a place if need be, if you need a place to stay. OK? Those are all options we have at our disposal, but it's totally on you," Bilgo tells her.
Investigator Messer says, "We offer it to all the girls and give them the opportunity. We let them know what services are available to them and what we can offer them."
Investigators tell Target 2 this woman, a single mom with young children, now wants help. She says she's being trafficked.
"She has a trafficker, allegedly, so we're trying to identify that trafficker and move forward with that investigation," Sgt. Wilson says.
Only minutes after arresting the first woman, a second woman whom investigators spoke with for hours shows up.
This woman is offered help.
Investigators say she's not interested. They are used to hearing that.
"This isn't a one-time thing for a lot of these ladies. Some of the names that were in here that we talked to that night, I've seen before and I've arrested before," Sgt. Wilson says.
It's the exact reason law enforcement no longer view this as prostitution.
"Whether they're independent or someone's controlling them, they're scared," says Detective John Peters, Green Bay Police Department. "At least you put that on the plate for them and they may come and reach out at you later, whether it's another arrest or you may just get a phone call."
Advocates form Eye Heart World and the Sexual Assault Center help in these operations. They say it takes on average seven tries before a woman tries to get out.
"Yesterday I met with one and she said you just don't understand," says Dawn Spang, Eye Heart World. "It's a mindset. 'It's all I've ever known. I don't know how to break that.'
"So they really feel stuck and our goal is really to show them that there's a way out."
RESOURCES: