UWGB volleyball rallies around coach, serves Alzheimer's awareness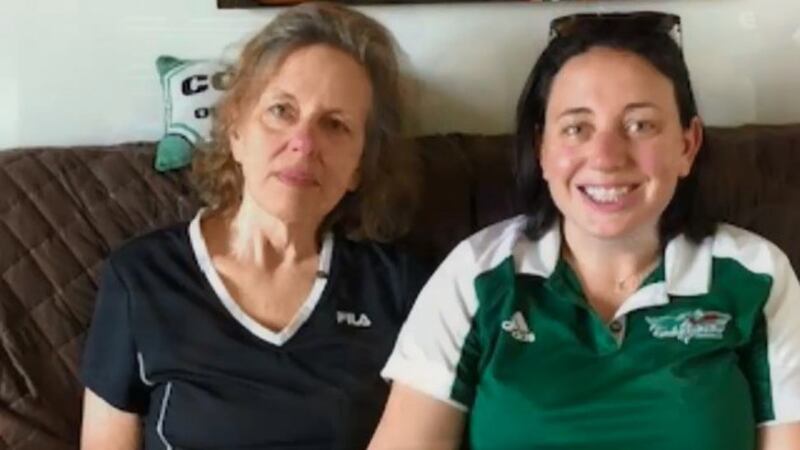 Published: Oct. 16, 2018 at 4:44 PM CDT
The UW-Green Bay volleyball team is rallying around their head coach as her mother fights early-onset Alzheimer's disease.
"My mom has the disease. She's 62 years old," says Abbey Sutherland, UW-Green Bay Volleyball Head Coach.
Abbey Sutherland's mother, Rhonda, has been living with Alzheimer's disease for 10 years. The diagnosis caught the family off-guard because Rhonda was so young at the time.
"I wish we would have been more educated on it. It's hard to go through it. We even thought maybe she was hard of hearing or needed to get a hearing test. But just year for year, things change," Sutherland says.
Sutherland's father, Rob, has become Rhonda's caregiver. The disease has continually progressed and it takes a toll on the entire family.
"You have to work really hard to live in the present and enjoy what you have, rather than be sad from seeing them disappear," Sutherland says. "Because every day, it kind of gets worse, so you just try to live in the moment."
When Abbey Sutherland took over as head coach of UWGB's volleyball team this year, she told her players they should serve their community and make a difference.
On Friday, Oct. 19, that will be their mission.
"We're attacking Alzheimer's. It's to promote Alzheimer's awareness and we're raising money to try and find a cure," Sutherland says.
They're turning their match against IUPUI into their first Alzheimer's Awareness Match. It starts with a pep rally at 5 p.m.
The idea is to inform a younger generation about caring for people with Alzheimer's disease.
"It's amazing that the youth, how they wrap around this and they roll out activities and fundraising, and they know how to make things happen," said Laurie Schill, Executive Director, Alzheimer's Association Greater Wisconsin Chapter.
Coaches around the state have also jumped on board and will host similar awareness matches.
"We want to help other families. We want them to know they're not alone," Sutherland says.