UW-Oshkosh talks sexual assault with education about the Red Zone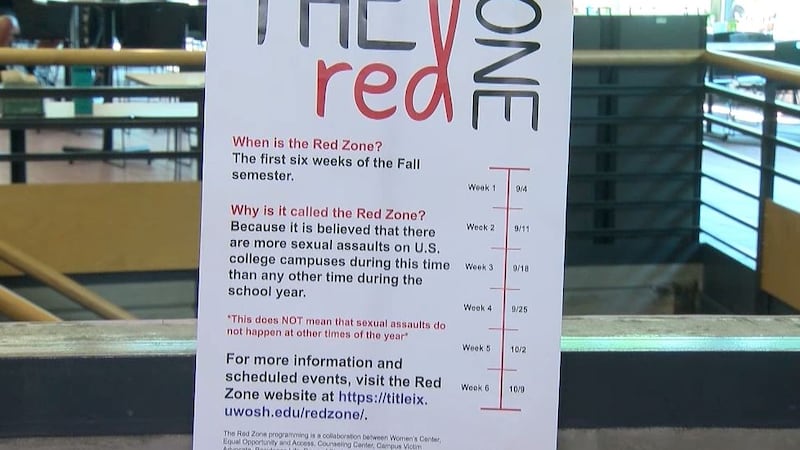 Published: Sep. 19, 2017 at 4:48 PM CDT
Just days after an attempted sexual assault near UW-Oshkosh, Action 2 News learned more about an awareness campaign new to campus.
It's called the Red Zone.
Oshkosh says it's a period when more sexual assaults take place at universities nationwide than any other time of the year.
The university's focus is first-year students.
"Way to mark the first six weeks of the semester. The Department of Justice has identified it as higher than normal risk for sexual violence," said Alicia Johnson, Director UW Oshkosh's Women's Center.
UW-Oshkosh says to challenge the victim-blaming mentality, it focuses on the thought process of the offender during the Red Zone and throughout the year.
And offenders during the Red Zone may see that some students are in a new environment, "See this as a time where people have their guards down or it's a more opportune time," said Johnson.
Through the week of October 9, the university will be talking about the Red Zone with programming on sexual violence, bystander intervention training, proper consent, and more.
Marianne Radley from Reach Counseling in Neenah believes talking about what this time of year can bring is a proactive step for students.
"You know the Red Zone is attention catching, and it will hopefully make people more aware of some of the risks that are involved with the first six weeks of the semester and maybe avoid some of those risks," said Radley.
The Red Zone awareness campaign at UW-Oshkosh officially wraps up October 18 with a community rally against sexual violence called "Take Back the Night."