Police: UWO robbery suspects targeted ATM company in the past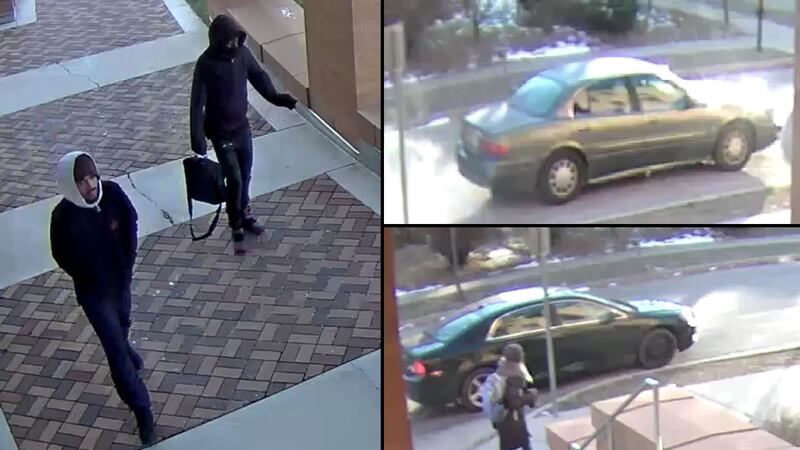 Published: Nov. 14, 2018 at 9:29 AM CST
Two men armed with handguns attempted to rob an ATM courier on the campus of UW-Oshkosh Wednesday morning.
It happened at about 8:40 a.m. outside Reeve Memorial Union, at the ATM entrance facing Fletcher Hall.
UW-Oshkosh Police Chief Kurt Leibold says the robbers targeted a cash courier for Thillens ATM Services but didn't get away with any money. Leibold believes the pair did get away with the courier's gun.
One robber is described as a white or mixed-race man who wore a black jacket, blue jeans, gray hoodie, and brown ski mask.
The other robber was a black man who wore dark clothing, including a dark hoodie. He wears red and white Adidas shoes.
Both were armed with handguns.
"I believe they were targeting this courier for money. However, this courier generally doesn't carry money," Leibold said during a news conference."
The suspects got away in an older, tan, four-door car with a rounded front driven by a male describe only as white or mixed-race. UW-Oshkosh released surveillance photos of two possible vehicles, labeled as a Chevy Malibu and a Buick LeSabre.
Leibold says Thillens ATM Services has been targeted three other times since September. The previous robberies happened in the Madison area.
"It appears to be the same crew based on suspect information," Leibold says.
Surveillance video indicates that the suspects had been casing the courier. The courier makes a daily visit to campus.
Leibold says his department worked with Oshkosh Police, the Winnebago County Sheriff's Office and Wisconsin State Patrol to get the word out on these suspects. It's believed they headed to the Madison area.
"At no time did I feel that the campus was in jeopardy. This robbery we knew right away was a targeted invent. Based on surveillance information and witness statements we knew that the suspects had fled campus immediately," Leibold says.
Students received alerts on their phones Wednesday morning.
"Well, at first I got the Titan Alert, and I saw 'robbery.' Sometimes we get notifications about stuff that happens off campus, so I wasn't totally worried about it.," said freshman Sean Lawrence. "Then, we started getting more, and it was on campus."
Freshman Caleb Behnke said, "I guess it makes me more comfortable, because you never know what could happen, and just for that peace of mind it makes it way easier. "
Fox Valley Technical College's Riverside Campus in Oshkosh went into lockdown following the robbery, but it has been lifted.