'Snake Man' describes challenging reptile rescue in Omro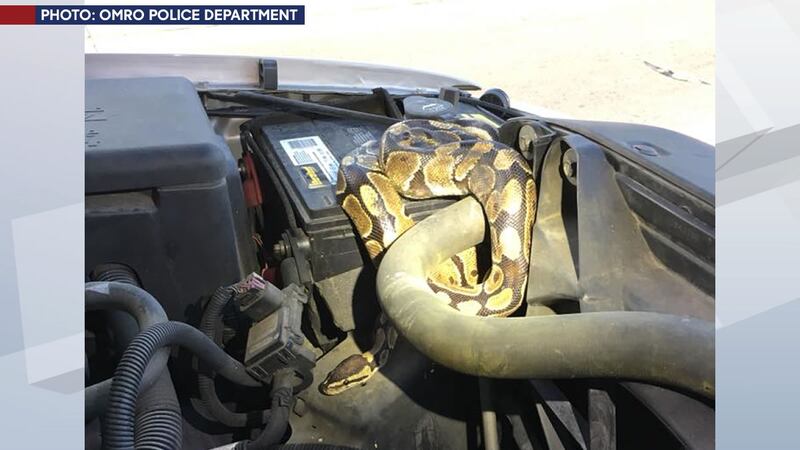 Published: Aug. 23, 2018 at 4:22 PM CDT
It gives a whole new meaning to "serpentine belt." A snake caused hundreds of dollars of damage to an Omro woman's SUV.
"It kind of freaked me out, you know, seeing that big one around my car," vehicle owner Liz Nguyen tells Action 2 News. "That freaked me out, and my son jumping too, because he think the snake bite him."
On Wednesday evening, Liz's son, Chris stopped by the nail shop where she works to borrow her vehicle. Chris pulled onto Highway 21 and the troubles started. He pulled over, popped the hood, and discovered a ball python resting there.
Aptly, it damaged the serpentine belt. That caused the alternator and power steering to go out.
"He called me, he say, 'Mom your truck is broke down,'" Liz Nguyen tells us. "Oh my God. So I ran over there and said 'What's going on?' And he said when he opened the hood he see the big snake."
The Nguyens called police. It made for a very unusual night for Officer Peeters from Omro and Lieutenant Sauriol from Winneconne.
"I give credit to the officers. I wouldn't have been there, but they were up to their elbows in the engine compartment trying to get a hold of this snake," said Omro Police Chief Joe Schuster.
Officers arrived to find the snake on top of the battery. It became spooked and went into the engine.
The officers struggled to free the slithering suspect.
Enter The Snake Man.
"This is not an unusual place to find a snake, but it's the first time I've ever been called in," says Snake Man Steve Keller.
Keller, who lives in Menasha, rescues and adopts snakes from across the state of Wisconsin.
He had a busy day before the he picked up the call from Omro.
"I rescued two snakes in Reedsville and then came home and got a call from the police in Omro to come and rescue a third one," Keller tells Action 2 News.
Wednesday night's ordeal was a tough one for the snake specialist.
"It took us about an hour and a half to get the snake out from under the car," Keller says. "We had to bring in a tow truck, lift the car so we could get under the wheels. It was very challenging."
The four foot-long ball python came out unscathed.
However, these types of snakes are not allowed in Omro. Police gave a ticket to a resident who claimed ownership.
The department says they'll rip up that ticket if the owner agrees to pay to repair the damage caused by the snake.
Snake Man Keller told us he would adopt the serpent.