Rodgers returns motivated, done talking about article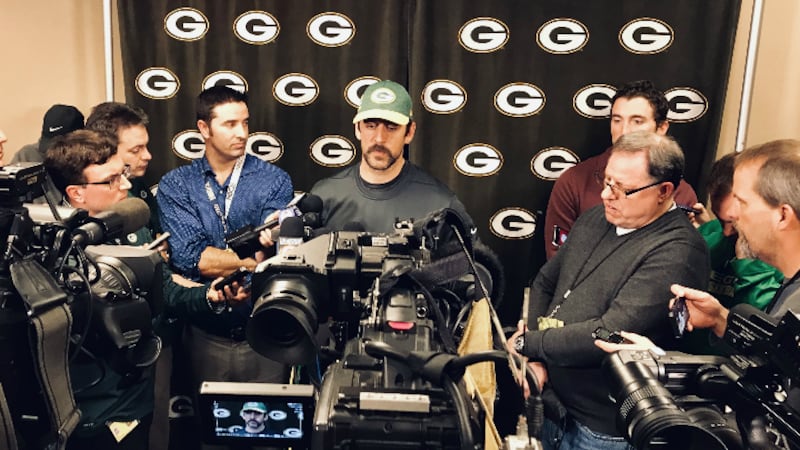 Published: Apr. 10, 2019 at 4:41 PM CDT
Wednesday was the first time WBAY and the rest of the Wisconsin media was able speak with the Green Bay Packers players since the team started voluntary offseason workouts on Monday.
Packers quarterback Aaron Rodgers spoke with ESPN Milwaukee for more than an hour on Monday.
Topics ranged from his new Head Coach Matt LaFleur, to his reported dysfunction between former Head Coach Mike McCarthy and former teammates stemming from a Bleacher Report article released last week.
Rodgers appears to be done defending himself.
"First of all, I stand by what I said. I just want to kind of refer to that as far as any other comments go," Rodgers said Wednesday.
Packers receiver Davante Adams took to Twitter to react to the article which questioned Rodgers' leadership and his ability to be a good teammate.
Adams replied to former Packers receiver James Jones' tweet which said "When I read this article it makes me sick …" with "Couldn't agree with you more JJ…"
Adams reiterated Wednesday that he stands with Rodgers.
"Great leader. All the negative things that I've heard, I share none of those feelings with those guys. Nobody reached out to me. Nobody reached out to James Jones. Nobody reached out to Jordy Nelson or Randall Cobb, or any of these guys that obviously had a good relationship with him. I think if those people were interviewed about him, then the story would have been a lot different," Adams said.
IMPRESSIONS OF MATT LAFLEUR
Both Adams and Rodgers spoke highly of Matt LaFleur even though the team has only been together for three full days.
"It's been great conversations. He's been in front of the room getting himself comfortable to being the guy. It's fun to watch him and support him," Rodgers said.
"Very good first impression," Adams said. "I like where this thing is headed. I like his mindset and how he has things mapped out for this offense and it's going to be a lot of different ways to use guys. I think everybody is pretty excited right now."
Now that the LaFleur era has officially begun, the expectation of returning to form after missing the playoffs for the past two seasons has started.
"There isn't a grace period," Rodgers said. "This isn't like other transitions where you kind of give a pass the first year or two as you get acclimated to the system. We have a veteran quarterback. Veteran offensive linemen. We signed some big free agents for us especially three on defense and there's an expectation, living and playing here that you are going to compete for championships and I think we all expect to do that."