Riley's journey to college degree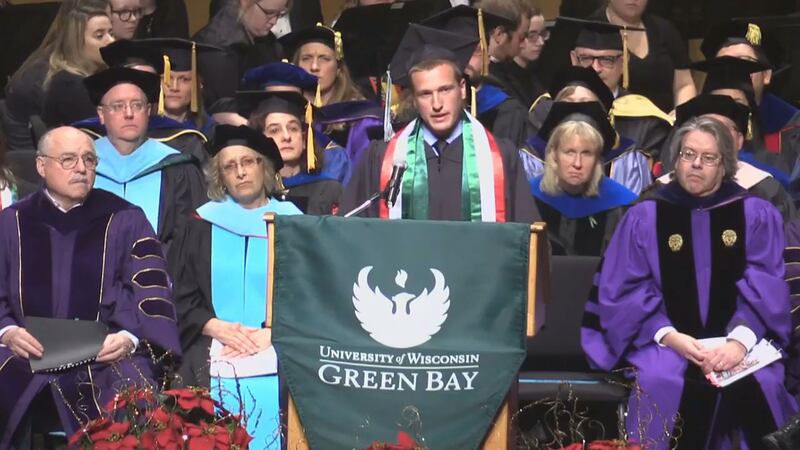 Published: Dec. 18, 2017 at 4:40 PM CST
A University of Wisconsin-Green Bay graduate credits the college's Phuture Phoenix program with planting the seed for his dream of higher education.
Not only was Riley Garbe chosen as commencement speaker on Saturday, the UWGB Alumni Association voted him most outstanding student.
It's an amazing achievement considering the road Riley traveled to earn his degree.
Every year for the past 15 years, Phuture Phoenix has welcomed more than 1,000 area 5th graders on campus to experience college.
It's a field trip that changed Riley's life.
"It was my first ever visit to a college campus and where I come from college was never talked about at home," says Riley.
During Riley's commencement address on Saturday, he shared what life was like for him growing up.
"My parents were drug addicts and alcoholics. My parents went away to jail and prison throughout my childhood. I witnessed abuse and violence more times that I can count. My older brothers quit school to get involved in gangs and drugs. And by age 12, I had already lived in 16 different homes and two shelters," recalled Riley.
Despite the hardship at home, Riley stayed focused and earned a Phuture Phoenix scholarship.
"You can't control the card you're dealt, but you can control how you play it, I took the challenges I had in my life and used them to make me stronger, make be brave, make me more courageous," says Riley.
Started in 2003 as a way to promote post-secondary education, Phuture Phoenix Director Mary Sue Lavin says those once-5th graders, like Riley, are now earning degrees.
He's the 83rd Phuture Phoenix graduate.
"Riley is the poster child for Phuture Phoenix, he really shows us that even if the cards are stacked against you, if you have a support system that believes in you and you believe in yourself you can do it, and he's proof of that," says Lavin.
"It's easy to react to the challenges of life and things that are out of our control with anger and spite and want to seek vengeance on the world, but it takes a lot of courage to react with love and acts of mercy, so that's what I've chosen to do," says Riley.
Beginning next month, Riley will teach Spanish to elementary school students in the Green Bay area.