Return to Vietnam: Two profiles in courage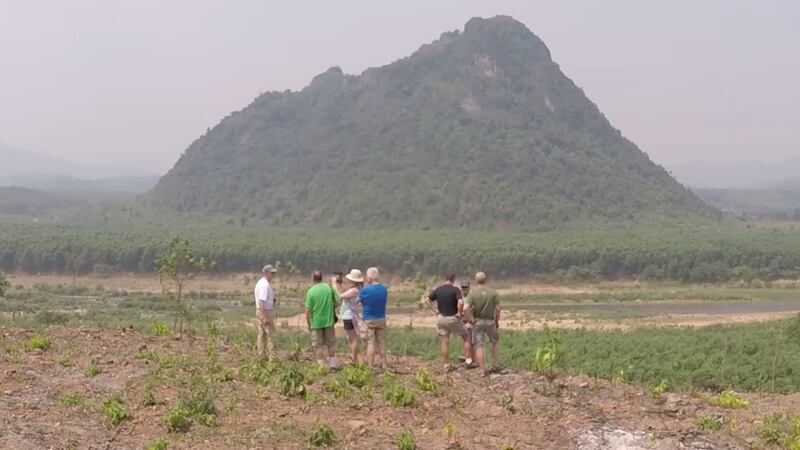 Published: Mar. 6, 2019 at 9:52 PM CST
The 52 men on Old Glory Honor Flight's "Return to Nam" represent communities throughout Northeast Wisconsin. They also represent decorated and honorable service during the Vietnam War, including multiple Purple Hearts, Bronze Stars and Silver Stars.
In tonight's Return to Vietnam coverage, Jeff Alexander profiles two veterans who miraculously made it home from the war alive.
In Vietnam 50 years ago, they didn't know each other. Today, though, these two Marines are united in mourning as they leave challenge coins and try to pay tribute to many fallen friends.
"I put that coin down for my best friend at the Rockpile there and just made my day," Randy Barth of Green Bay said.
"It's very said, you know. I'm glad I was here. I'm glad I was able to drop my coin at the Rockpile," Tom Schell of Kaukauna said.
Across the valley is a mountain known as the Rockpile.
In the fall of 1968, Tom and his Marine battalion climbed to the top. The strategy backfired almost immediately.
"We were up there probably a half hour, started digging foxholes and stuff, and we started hearing mortars and they just, mortar after mortar after mortar, and people were jumping in foxholes. Didn't matter if they made them, they were jumping in, people jumping on top of each other. It was hard. I mean, I actually saw a Marine get blown apart," Tom said.
"Three hundred twenty Marines we had on there," he continued, "and out of that 320 Marines I'm guessing about 280 were at least killed or wound. It was very hectic and very bad."
With the North Vietnamese surrounding the mountain from below, it was too dangerous for U.S. helicopters to attempt rescues.
Tom and the surviving Marines spent 17 days fighting for their lives in 100-degree heat, and at one point an explosion left shrapnel in his left arm. Finally, air support forced the enemy away.
"Absolutely terrible as far as the smell. Bodies were on the hill, and you could see them down below where there were up close to the edge and kind of went over there and most of them were already-- We had to somehow get them so the choppers could get them out, so anybody that could walk and wasn't wounded that bad would have to go down there and help bring them bodies up, and it was so bad that sometimes you would grab a Marine by the arm or leg and it would just pull right off."
Not far from here, Randy and his battalion were on a mission near a small village.
"The only thing I remember is when I got hit, I thought I was dying. And when we got to the helicopter, they said 'No room,' and the one gunner on the chopper says 'There's room,' he says, 'Roll off the dead. We'll pick them up on the next run.'"
To this day, Randy can't believe he survived.
"I got shot in my neck and it came out my back," he said, "and the doctor, I remember the doctor saying to me when I finally come to, he says, 'I've operated on people that got shot through the heart -- not the vital spots -- but you,' he says, 'you got more luck than a cat."
For Randy and Tom, this is their moment to put their demons to rest.
Another mission accomplished on this Old Glory Honor Flight.
"It's just an amazing feeling. It really is," Tom said.
"I think it's the greatest thing that ever happened in my life," Randy said.
Tomorrow we begin the final leg on this historic return to Vietnam. We will travel to a place none of these vets have ever been before: the capital city of Hanoi.