Teen arrested for Attempted Homicide in stabbing of Oshkosh West officer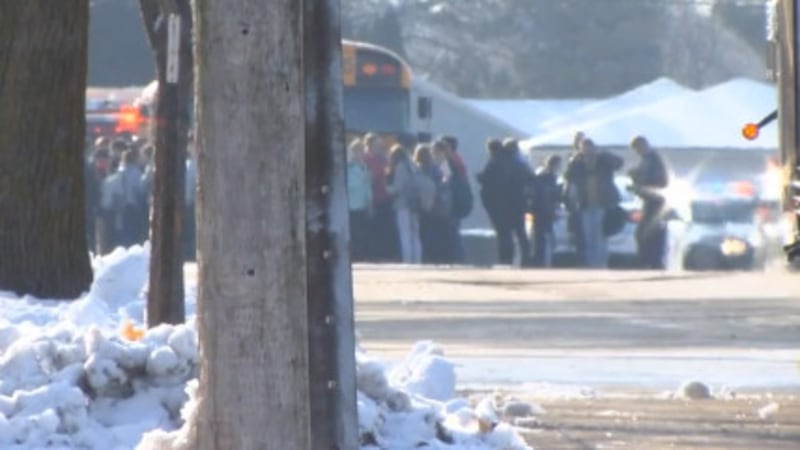 Published: Dec. 3, 2019 at 9:35 AM CST
Special agents have arrested a 16-year-old Oshkosh boy on a charge of Attempted First Degree Intentional Homicide for stabbing a school resource officer at Oshkosh West High School Tuesday.
Winnebago County Sheriff John F. Matz says the teen is being housed at the Winnebago County Jail.
The teen, whose name was not released, was shot by Oshkosh West High School resource officer Michael Wissink during a confrontation in Wissink's office. Police say the teen stabbed Wissink before the officer shot him once.
Sheriff Matz did not release the teen's name. In a letter to the media, he requested reporters not release it. Action 2 News plans to report it once official charges are filed and the teen makes an appearance in court.
"The events at Oshkosh West High School on Tuesday 12-03-19 could be considered part of an epidemic, and that as a nation, most of us recognize something needs to change. In an effort to reduce any potential contagion effect, and not to glamorize the actions of the perpetrator, I am respectfully requesting the Media not make a formal inquiry for his name and photograph. I can confirm that a 16 year-old male from the City of Oshkosh has been arrested by Special Agents of the Wisconsin Department of Justice, Division of Criminal Investigation, for Attempted First Degree Intentional Homicide and is currently being housed in the Winnebago County Jail," reads a statement from Sheriff Matz.
Officer Wissink is a 21-year veteran of the Oshkosh Police Department. He has been a school resource officer since 2017.
The Wisconsin Department of Justice Division of Criminal Investigation is in charge of the investigation. This is protocol in officer-involved shootings.
"DCI is continuing to collect evidence and determine the facts of this incident and will turn over investigative reports to the Winnebago County District Attorney when the investigation concludes," reads a statement from the DOJ.
Oshkosh Police are speaking out against rumors on social media outlets that Officer Wissink needs blood donations.
"Currently Officer Wissink is not in need for any blood donations. We encourage citizens to contact the American Red Cross if they wish to make any donations of blood," says Officer Kate Mann.
Events unfolded at Oshkosh West High School at 9:12 Tuesday morning. Winnebago County dispatchers received a call from Officer Wissink requesting help and an ambulance. Two minutes later, the first responding officer arrived at the school at 375 N Eagle St.
"It was determined that there was an altercation at the SRO's office between the officer and a 16-year-old student. Initial reports saw that the student produced a weapon and stabbed the officer, at which time the officer fired on the student, striking the student one time," says Oshkosh Police Chief Dean Smith.
The student and the officer were taken to a local hospital for treatment. Chief Smith does not believe their injuries are life-threatening.
No other students were hurt, according to the police. Smith says investigators believe only one student was involved.
Chief Smith says the student used an "edged weapon" but stopped short of saying it was a knife.
The school resource officer carries a 9mm, according to Chief Smith.
Oshkosh West was placed on lockdown. Students were taken to Perry Tipler Middle School, 325 S Eagle St, where they were reunited with parents.
Officers immediately began a sweep of the school. The building was cleared at 11:18 a.m.
Oshkosh West High School had no classes Wednesday and Thursday. The school will reopen for classes on Friday, Dec. 6. The district provided this guidance for Oshkosh West students as they prepare to return to class:
• Retrieving Student Belongings - Thursday: West students and parents/guardians can access the building on Thursday, December 5 between Noon and 2 p.m. to retrieve any personal belongings in classrooms. Please enter through Door # 24 and go directly to the 2nd-hour classroom or location to retrieve belongings. Oshkosh West staff will be present to assist.
• Counseling Services - Thursday: Counseling services will be available at Oshkosh West High School in the media center from Noon to 2 p.m. on Thursday, December 5. Students and families are encouraged to access counseling if additional supports are needed.
• Athletic Practices and Events - Thursday: Athletic practices and events will resume Thursday afternoon as scheduled.
• Resuming Classes - Friday: Classes at Oshkosh West will resume on Friday, December 6, 2019, with 1st-hour. Zero hour classes are canceled for Friday. Any students who do not have a 1st-hour class in their schedule are welcome to gather in the O Room during 1st-hour.
• Ongoing Support - Friday and Ongoing: As the Oshkosh West school community returns to classes on Friday, please know that additional resources will be in place to ensure that all students and staff are supported as the healing process begins. OASD administration has been working to support staff and students so that the entire team is able to support the school community. Please know that there will also be increased police presence at West and throughout the District on Friday.
Resources can also be found online on the
(
).
"Today's tragic event shows that trained school resource officers can help save lives," says Superintendent Vickie Cartwright, Oshkosh Area School District.
"Our students and staff followed our emergency protocols including our
of Alert Lockdown Inform Counter and Evacuate," says Dr. Cartwright.
Oshkosh West freshman Alexis Watkins told Action 2 News about the tense moments when it was announced there was a situation at the school.
"It was really scary. They went over the intercom and everyone was freaking out over the intercom. Where are we going? They said lockdown but everyone was running out of the school. I twas really bad, " says Alexis Watkins. "Everyone over the intercom was just like run, run, run. And then they were like it's a lockdown, you have to stay in the room. And everyone was like, no you have to run. So I just ran."
Cartwright says some students stayed in the classroom while others ran. She said that is part of ALICE training.
"There are times when it is more practical to evacuate versus going into a lockdown situation. So rather than keeping students in a facility in a lockdown situation and there is a potential person with a weapon, if you are in a position within that facility in order to evacuate or remove yourself from harm, that is the proper protocol to utilize at that time," said Cartwright.
Action 2 News spoke with Pastor John E. Seelman at nearby Immanuel Lutheran Church. He told us he saw students running across the street. He said police were on scene in minutes.
Pastor Seelman said some students came into the church, and he walked them to a bus to be transported to Perry Tipler Middle School.
"I did not realize how many officers there were on duty in Oshkosh. How many cars and different vehicles showed up," says Pastor John Seelman, Immanuel Lutheran Church. "Shortly after the first ambulance arrived, someone was brought out in a wheelchair and they were transferred to a stretcher and then into an ambulance that left shortly after that."
Chief Smith addressed rumors of threats to other Oshkosh schools, saying, "There may be some additional rumors of threats out there. We're still investigating."
Chief Smith was also asked about reports of a Snapchat post that may have threatened an incident at the school. "That's still part of the investigation. I can't speak to that at this time," Smith said.
At 2 p.m., Oshkosh Police posted on Facebook that they investigated a comment on the police department's own social media post. Some felt the comment suggested a threat against Oshkosh North High School. The police department says based on its investigation, the comment wasn't meant to be a threat and officers don't feel students are in danger.
About 1,700 students attend Oshkosh West High School. All Oshkosh Area Public Schools were closed Wednesday.
"This is a tragedy," said Chief Smith."But together we're going to come through. We're going to make everyone whole."
The district made counselors, social workers and psychologists from throughout the Oshkosh area available to students, families and staff members to provide mental health support on Wednesday.
"Our entire school community is deeply saddened to have been touched by such a traumatic experience. We want to assure you that the safety of our students is our top priority and that our school and district has a comprehensive emergency response plan in place to navigate safety situations. We are grateful to our West students, staff, and families for following our safety procedures, as well as your patience and cooperation throughout this process," Superintendent Cartwright and principal Erin Kohl wrote in a joint statement.
The stabbing and officer-involved shooting at Oshkosh West happened one day after an officer shot a 17-year-old student at Waukesha South High School. Officials had received reports that the student had a handgun. The student survived the shooting and was taken into custody.
for more on the Waukesha shooting.
www.facebook.com/plugins/video.php?href=https%3A%2F%2Fwww.facebook.com%2FWBAYTV%2Fvideos%2F797996587293292%2F&show_text=0&width=560" width="560" height="315" style="border:none;overflow:hidden" scrolling="no" frameborder="0" allowTransparency="true" allowFullScreen="true">
U.S. Senator Ron Johnson (R-Wisconsin)
"The incidents at Waukesha South and Oshkosh West remind us that we do not possess the capability to completely prevent someone from bringing a weapon to school. We should all be thankful, however, that larger tragedies may well have been averted due to training, and the swift and courageous action of students, teachers, school administrators, and armed school resource officers. This confirms that action can-- and should -- be taken to mitigate harm and limit casualties when weapons are brought into schools.
"A recent report published by the Secret Service that studied 41 school shootings from 2008-2017 demonstrates that in every case, the shooter showed concerning behaviors prior to the attack. In addition, the Department of Homeland Security will soon go live with an internet clearinghouse of school safety best practices that school officials should be aware of and utilize. Let's not let anyone's vision of the "perfect" solution prevent us from taking action that will do some good."
Wisconsin Governor Tony Evers (D)
"What happened in Oshkosh today hits especially close to home for Kathy and I -- two of our kids graduated from Oshkosh West when our family lived in Oshkosh, and our hearts go out to all of the folks at Oshkosh West and the Oshkosh community as they grapple with today's events.
"It's impossible to ignore the fact that in addition to today's officer-involved shooting at Oshkosh West, the Sparta School District is closed due to security threats, and that this happened just a day after we had another school shooting at Waukesha South. I said it yesterday and I'll say it again today -- no kid should be afraid to go to school or be in the classroom, and no parent should be afraid to send their kid to school, either. The last two days tells us that we can't keep pretending that this only happens in other communities or in other states -- it's happening here, too. We can't just accept that violence in our schools is a foregone conclusion, and we have to get to work to do everything we can to keep our kids and our communities safe."
State Sen. Dan Feyen (R-Fond du Lac)
"The safety and security of students and staff is one of my highest priorities. I am continuing to monitor this situation as it develops, the incident is being investigated by the State Department of Criminal Investigation. A student, armed with an unidentified weapon, confronted a school resource officer. The student and officer were both injured and transported to local hospitals. I am very thankful for the quick response from law enforcement at Oshkosh West High School."
State Rep. Gordon Hintz (D-Oshkosh)
"Less than 24 hours after the incident at Waukesha South High School, I am profoundly saddened to see my own friends, constituents, and neighbors having to come together to cope with an officer-involved shooting of a student at Oshkosh West. Our community is fortunate that no lives were lost today, and I am deeply appreciative of the staff and law enforcement who acted to keep our students safe.
"As an elected leader, every day I feel the urgency of a public that is looking for answers and deserves leadership from their government officials on reducing incidents like this. I reject the premise that students today must simply learn to live with the constant prospect of terror and violence when they attend school, or go about their lives in any other public space. In Wisconsin and across the country, we are deserving of leaders who are willing to step up and address this growing public health crisis."