Nurse from Antigo shares story of hurricane aid trip to U.S. Virgin Islands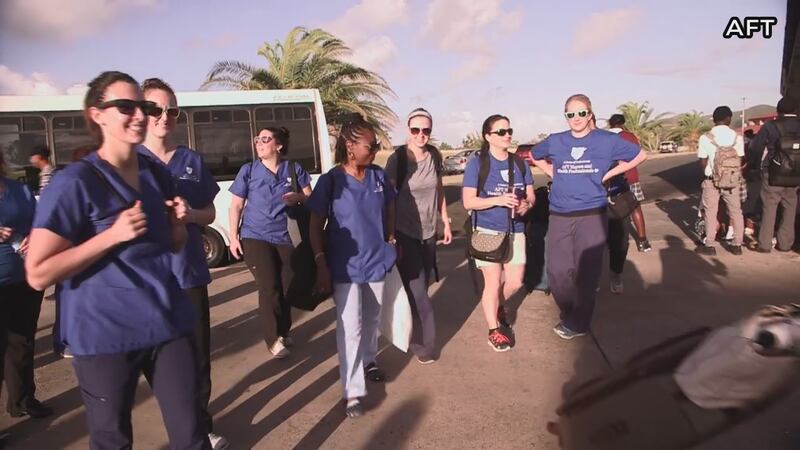 Published: Apr. 20, 2018 at 5:00 PM CDT
While many of us braved an April blizzard last week, many in the U.S. Virgin Islands are still recovering from the devastating effects of hurricanes Irma and Maria, which tore through last fall.
More than two dozen nurses traveled to the Virgin Islands last week on a mission trip by the 'American Federation of Teachers' (AFT). There the nurses provided health screenings for school teachers and 9,000 students.
Libby Gabriel, a registered nurse for nearly 20 years currently living in Antigo, always wanted to go on a mission trip. What she didn't realize, was how bad conditions are in the Virgin Islands, a U.S. territory.
"It was evident to us that it seems like U.S. Virgin Islands has been forgotten and the people of the U.S. Virgin Islands have been forgotten. Puerto Rico is heavily damaged, we all know that, it's in the news, but you don't hear much about the U.S. Virgin Islands," said Libby Gabriel, R.N.
Gabriel was assigned to do vision and hearing screenings on the island of St. Thomas, on her first day there, she could immediately see why she was needed.
"The very first girl on the very first day that I did a vision screening on failed the vision screening. She couldn't read the top line of the Snellen chart and then she also failed the hearing test, and this was a second or third grader going to school, and she couldn't see, and she couldn't hear," said Gabriel.
Gabriel says resources are short, students only go to school for a half day, the power goes in and out, and mold was in every school building she examined.
She calls the trip eye-opening, both personally and professionally.
"The children there and the educators there were so thankful we were there. The kids were hugging us, thanking us for coming and helping them, and it was obvious that we need to do more for the U.S. Virgin Islands, they're a part of us, they're U.S. Territory," Gabriel adds.
On the trip locals told Gabriel getting tourism back is a top priority for the U.S. Virgin Islands.
"It's a beautiful place, the people are wonderful and welcoming and they need the tourism to return like it was pre-hurricanes, they're depending on that," said Gabriel.
For ways to donate or to look into a future missions trip click on the related links to the right or bottom of this article.