More monarch sightings in Wisconsin, but population continues to decline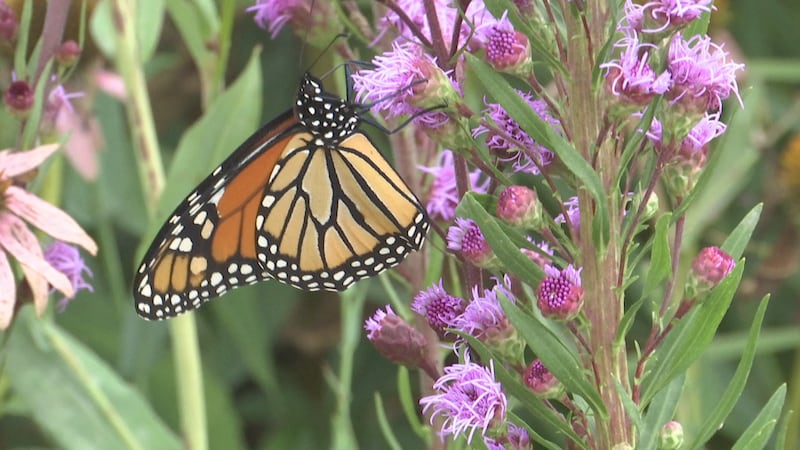 Published: Aug. 21, 2018 at 6:34 PM CDT
The monarch butterfly population in the U.S. has dropped more than 80 percent in the last 20 years.
This year in Wisconsin, the butterfly is doing better with more reports of sightings, but there's still a long way to go to keep it off the endangered species list.
"The population of monarchs between the Rockies and the Appalachian that migrates down to Mexico was estimated at 2.91 hectares last winter, which is about 7 acres. That is slightly down from the year prior," said Paul Skawinski, who is with the UW-Extension Stevens Point and is a member of the Wisconsin Monarch Collaborative.
"Estimates from people this year, just antidotal observations, are that things are looking good and are seeing more monarchs than usual."
Monarchs migrate to Mexico for the winter months and the weather plays a major role in how many will come north in the spring.
Predators in Mexico are also impact the butterfly's population.
Debi Nitka of Green Bay says she has seen more monarchs this year, and is doing her part to preserve the population.
"Probably through the 20 years I've probably had a few thousand that I've raised," said Nitka.
She is a master gardener. Her back yard is an insects' paradise and a haven for monarch butterflies.
"I kind of have a habit of looking wherever I go for the eggs," said Nitka.
She has monarch eggs, to caterpillars to chrysalis.
"You have to keep them clean, you have to keep them fed, so you have to be sure that you have the milkweed supply to feed them," said Nitka.
Milkweed is the only host plant for monarch caterpillars and habitats, such as the Locktender Prairie Garden in De Pere, are key to preserving the population. The site is also a monarch waystation, meaning it has everything a monarch needs to thrive.
The Northeast Wisconsin Chapter of the Wisconsin Master Gardener Association helped create the monarch home.
"So the problem in the Midwest is that this is their breeding grounds," said Ed Culhane, spokesperson for the Wisconsin DNR.
More than 70 stake-holders in Wisconsin have come together to form the Wisconsin Monarch Collaborative.
"We're going to be looking to all kinds of land managers people, big and small to create habitat for monarchs," said Culhane.
Through the collaborative, people are encouraged to take even the smallest bit of land and plant milkweed and other native pollinating plants to attract monarchs and other pollinators.
The local Master Gardener Association will be having an open house at the Locktender Garden on Wednesday, August 22 from 5:30 p.m. to 7:30 p.m. Gardeners will have resources available for people who may want to create a monarch habitat.