Mayor: Shopko to close Seymour store on April 7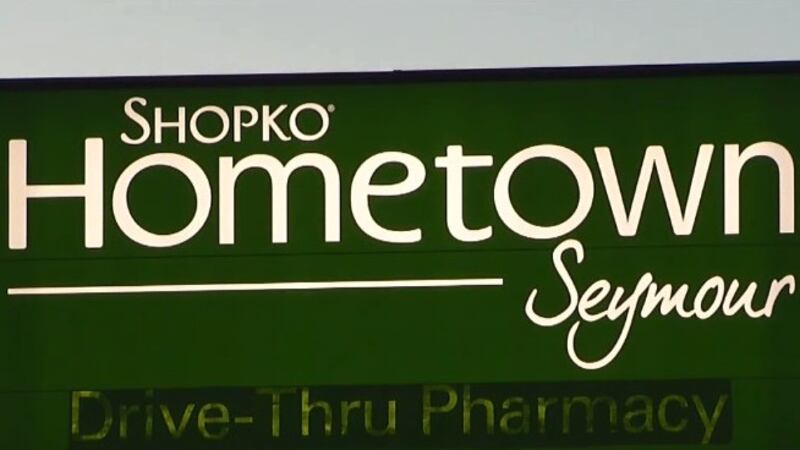 Published: Jan. 9, 2019 at 1:23 PM CST
The mayor of Seymour says he has been informed that the city's Shopko Hometown store will close on April 7. The location was not on a list of 39 previously confirmed closures.
"I am very disappointed with their decision to close the Seymour Hometown and the lack of communication to that effect with my office," reads a statement from Mayor Ryan Kraft. "I left a message with one of their executives this morning to express my concerns."
Kraft's statement, which was posted on Facebook by the city's Public Works Department, states that the mayor reached out to Shopko on Dec. 21 about the performance of the Seymour store.
On the morning of Jan. 9, Shopko Public Relations Manager Michelle Hansen confirmed with the mayor the decision to close the Seymour store.
Kraft's statement says a liquidation sale will start on Jan. 11.
"As of this morning, Ms. Hansen stated that Shopko is not facilitating a press or media release regarding the closure of the Seymour Shopko Hometown," Kraft writes.
"Shopko has been a generous corporate citizen to our community, and for that we are grateful and thankful. We wish Shopko the very best going forward as they navigate the growing headwinds facing the retail industry," Kraft states.
In December, it was announced that
of Shopko's pharmacy business. In the Fox Valley, the pharmacy files were transferred to Kroger-owned Pick 'n Save locations.
Hy-Vee purchased additional Shopko pharmacies.
In Seymour, the loss of the Shopko pharmacy is also concerning for residents.
Kraft told Action 2 News Wednesday night, "When Shopko came here in September of 2011 and opened their doors, our independently owned and local pharmacy that had been operating in downtown Seymour for decades was integrated under that Shopko organization, and now that they've ceased pharmacy operations as of January 2nd, and now closing the store for the first time in years our citizens can no longer have their prescriptions filled locally."
Julie Ambrosius of Seymour said, "I come here quite often just to pick up odds and ends for the home."
She added, "This is my first time hearing this. I did not know they were closing. I'm shocked."
In Menasha, several Shopko workers told Action 2 News off-camera that they were told Tuesday their store was closing April 7, also.
It's the latest signal that Shopko is in financial straits. Prior to the pharmacy sales, Shopko announced
This week, Action 2 News obtained documents showing pharmaceutical company McKesson Corporation has asked a judge to order the retailer to pay $67 million for products it ordered.
for the full story.
"In or before November 2018, and unbeknownst to McKesson, Shopko was insolvent," reads one document.
The complaint goes on to say that Shopko made misrepresentations "regarding its solvency" and ability to pay for products it purchased from McKesson.