Keeping car batteries charged in cold temperatures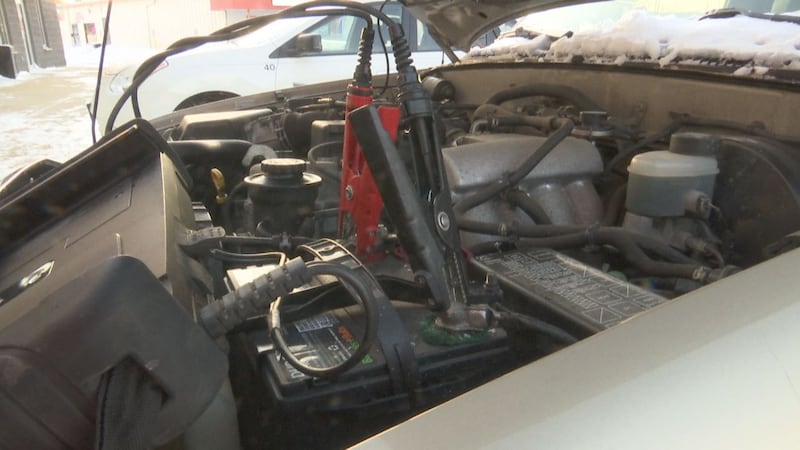 Published: Jan. 30, 2019 at 8:32 PM CST
AAA tells us there were nearly 300 percent more roadside assistance calls coming in on Wednesday compared to this time last year, and car battery problems make up the largest chunk of those calls.
Experts say it's because car batteries lose cranking power with sub-zero temperatures.
AAA says car batteries lose 60 percent of their strength when it's zero degrees out, but cars need twice the amount of energy to start when it's cold.
"It takes more to turn over your engine on average during cold temperatures," said Wade Jazdzewski, store manager at Batteries Plus Bulbs, "so anytime that it is weak, it requires more power, and if you have a weak battery then you're in trouble."
If you hear a grinding or clicking sound, or if your car is slowly cranking as you're starting it, Jazdzewski says those are some warning signs of a possible battery breakdown.
Age is also another factor in determining if a battery is weak.
"Three or more years is usually when you start to see a decrease in the overall cold cranking amps and capacity of your battery, so yeah, it's good to get it checked out after that time frame," he adds.
Jazdzewski says with the dip in temperatures, allow your car to run to help recharge its battery. He says 15 minutes should allow for a healthy charge whether it's parked or being driven.
"If you're doing short distance quick drives and turning it off right away, it's not going to reach that full charge again necessarily," said Jazdzewski. "So it's better to leave it running for a little bit, especially in the colder weather like this."
On top of your car battery already being drained by the cold, Jazdzewski says electronics being charged by your car, like your cellphone, is helping drain battery, too.
"Anytime that you have electronics plugged into your car, it is taking off of your battery," he said. "Any extra power that you can get out of your car battery, the better that it's going to perform."
Jazdzewski advises having a portable battery charger to minimize the drain on your car battery. He also says keep all charging cords in your car unplugged when they're not in use.
If you do need help restarting your car battery, AAA says it is only prioritizing requests for people in emergency situations, like stranded drivers.
A statement on its website says, "Members contacting us who are at home or who are in safe, warm locations are being asked to call back tomorrow or when conditions improve."