Inside Emergency Ops: Military vehicles used for water rescues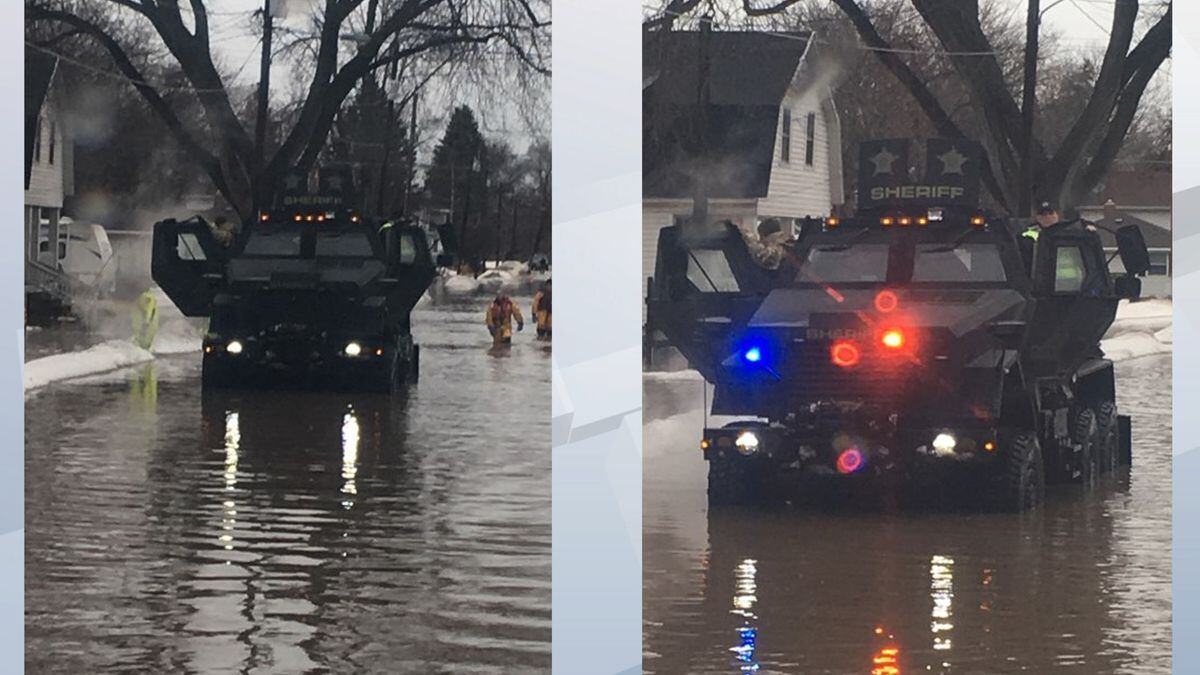 Published: Mar. 15, 2019 at 12:05 PM CDT
There are concerns about structural damage to bridges in Brown County resulting from raging flood waters.
The Brown County Sheriff's Office allowed Action 2 News inside their emergency operations center Friday.
"We haven't seen water rising that quickly in Brown County in several years and it's caused a lot of concern because of some of the infrastructure problems related to shutting different areas down and putting people in islands," says Sheriff Todd Delain.
If water even touched the girders, the bridges will need to be inspected before they can reopen to traffic. Engineers need to make sure the bridges are structurally sound. Water can damage or even lift the bridges.
for a map of Brown County Road Closures.
The County Highway Department and Wisconsin Department of Transportation will conduct inspections.
The Sheriff's Office tells Action 2 News that 38 people requested to be evacuated from the area surrounding Mason Street.
The Green Bay Metro Fire Department started water rescues at about 3:30 a.m. They called for help from neighboring agencies.
"We've had countless rescues where we got to people in either houses or stranded vehicles throughout Brown County in the last 16 hours," Delain says.
The Brown County Sheriff's Office used its MRAP (Mine-Resistant Ambush Protected) vehicle to rescue between 50 and 60 people. It's the only vehicle that was able to get through the flood waters without stalling. The department also employed Oconto County's MRAP.
"We took out our large rescue vehicle, former military MRAP, which we converted to our rescue vehicle which is very helpful where even pickup trucks and stuff were stalled out in water," Delain says.
It's unclear when evacuated residents will be allowed back inside their homes.
"We're working with the [city] building department as well to make sure homes are habitable, so that process will be coming out here shortly," says Green Bay Fire Chief David Litton.
Officials have serious concerns about infrastructure, especially around power stations and lift stations. If those fail, homes could experience a raw sewage back up.
"You have to protect all your infrastructure. Lift stations are important," says Paul Fontecchio, Brown County Highway Department director. "Most people go about their daily life and don't think about the things that, without them, become a problem very quickly. Electricity, water, where the stuff in your toilet goes. All those things are part of our infrastructure and they're critical. You take one of those out and people panic. So it's one of those things that you have to protect all of that."
The National Weather Service says the East River has peaked and water is slowly receding.
"Today with the cooler temperatures, you're not getting as much melting. I think that's really going to help us not have as much run off as yesterday," says Jerad Preston, Emergency Management Director.
Wisconsin Gov. Tony Evers has declared a state of emergency due to devastating floods in Northeast Wisconsin and beyond. That allows state agencies and the Wisconsin National Guard to help if needed.
Green Bay Mayor Jim Schmitt has issued an emergency declaration for these areas:
Cass St., John St., and Kimball and E to John St., and Eliza St. East of Goodell St., South along Suydam St. to Emilie St.
These areas are closed until further notice. Electricity is flowing and water is presumed to be "electrically charged," according to the mayor's office.
"These areas cannot be de-energized without affecting homes outside of the flood area," reads the emergency declaration.