Iconic sign shines bright again in Oconto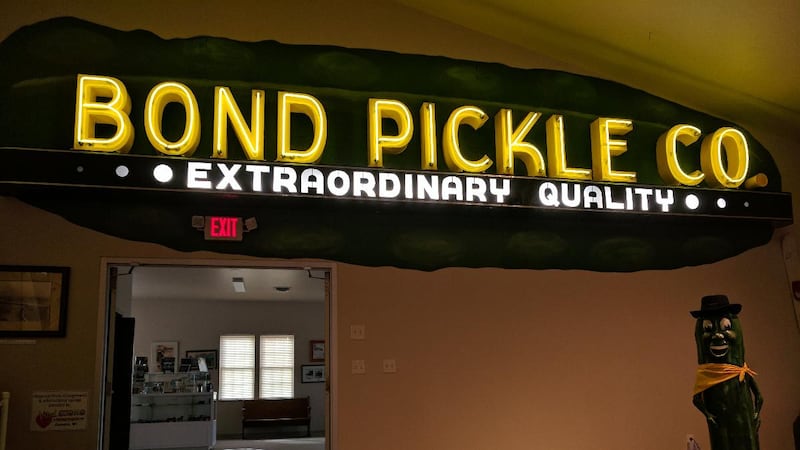 Published: Mar. 9, 2017 at 3:36 PM CST
An iconic sign, representing nearly a century of history in Oconto, is shining bright once again.
It's been quite a journey for that sign after decades atop the Bond Pickle Company.
Three years after shutting down in 2004, it was time for demolition crews to tear down the Bond Pickle Company, which had been the pride of Oconto for more than 80 years.
Nearly a decade would pass before a phone call sparked the interest David Retzlaff, president of the Oconto County Historical Society.
"Inquiring whatever happened to the sign and it was a good question, it was a question I couldn't answer, it really took some phone calls to find out where the sign went," says Retzlaff.
Retzlaff discovered the old neon sign had spent the last 10 years at the old city dump.
"Unfortunately the sign was placed outside, at ground level and it seemed to have become a 2-story condo for every critter out there in the woods," recalls Retzlaff.
Last October, the 24-foot sign arrived at the Beyer Museum for Retzlaff to begin his restoration project, six months of removing garbage, straightening steel and replacing glass and neon.
"It took a lot of work, it was very banged up," says Retzlaff.
Today, in front of about 20 former Bond Pickle Company employees, Retzlaff brought history back to life.
"It's emotional to see it up and lit." (butt) 13:56 "A memory of a time in history that's gone and it's great that we got to keep that," says Cathy Maas, a third generation Bond Pickle Co. employee.
And for the oldest living retired worker, a special connection.
96-year old Florence Zimmerman, and the sign, both arrived at the company in 1942.
"When I started there they paid the best wages, best wages of any factory, I got 32 cents an hour," says Zimmerman with a chuckle, adding, "You keep thinking back of when you worked there."
Those memories now brightened by a sign not forgotten.
"The looks on faces of the people who see the sign for the first time, these former employees, that's really what it's all about," says Reztlaff.