Hundreds of clergy, pastoral leaders learn about childhood trauma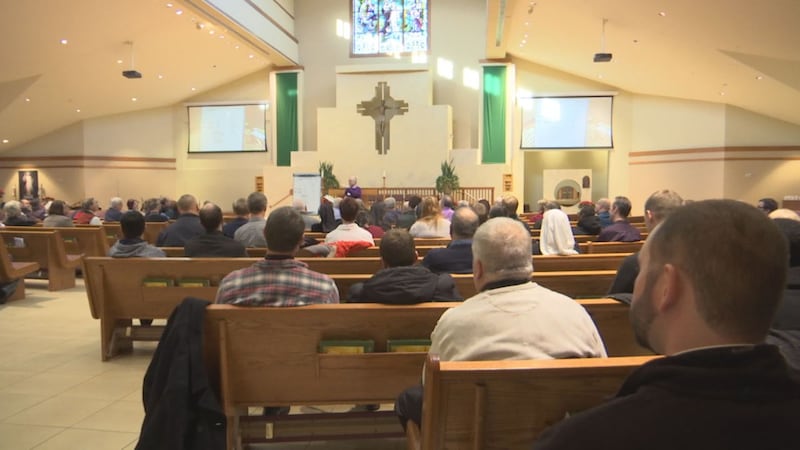 Published: Jan. 31, 2019 at 9:18 PM CST
Nearly 200 Catholic clergy members and spiritual caregivers attended a presentation Thursday on how to respond to victims of childhood trauma. The workshop was put on by the Catholic Charities for the Diocese of Green Bay.
This comes after jail records show a former Green Bay priest, Richard Thomas, was arrested Tuesday for allegedly violating his probation.
"The reality of sexual abuse in society is a very real one, it happens inside the church, and it happens outside the church," said Fr. John Girotti from the Diocese of Green Bay. "This is a way for us as Catholics to become aware about the harm that has happened to victims inside the church, but also as a service to the community to help those who have been harmed in any way."
Thomas' was one of the names released by the Catholic Diocese of Green Bay of clergy members with "substantiated allegations of sexual abuse of a minor." The 81-year-old was sentenced to four months in jail and three years on probation after being found guilty in 2016 of exposing his genitals to a child.
The Department of Corrections says it's currently investigating allegations of Thomas' probation violation, but the DOC tells us it cannot comment further than that.
Father Kenneth Schmidt, a licensed counselor who gave Thursday's presentation, says it's hard to pinpoint why some perpetrators of abuse turn out to be repeat offenders while others only commit crimes once.
Father Schmidt says area Catholic leaders will encounter victims of abuse so it's important to be able to respond to them with empathy and understanding.
"We're going to encounter victims, whether they may identify themselves or not, and so we'll be able to understand them and to respond with empathy, and with understanding," said Fr. Schmidt of St. Catherine of Siena Parish in Michigan. "After this presentation, we'll be able to make effective referrals on where they can get additional help for their own healing, and not to have false expectations about how we think they should be or shouldn't be just because it happened in childhood."
During the presentation, Catholic Church leaders learned about the lifetime effects of childhood trauma and why perpetrators decide to cause harm to their victims.
Father Schmidt says even though you can't generalize all abusers into one category, some perpetrators have a difficult time handling their emotions. Schmidt says abusers causing trauma to other people is often an exercise of power, more than it is an exercise of sexuality.
"It's much more an exercise of power than it is an exercise of sexuality," said Fr. Schmidt. "So the trauma may come about by acts of violence or sexual acts or other things. So it's not just about sex, it's about 'I don't know how to manage what I'm feeling right now, and so exercising power over another person alleviates my own symptoms of distress,'" he adds.
"It's widely known that priests have abused in the Catholic church, and this is one way that we can educate ourselves as Catholics but also as a service to the community to bring healing and knowledge about the actions of sexual abuse," said Fr. Girotti.
The Diocese of Green Bay will hold a similar trauma recovery workshop for mental health professionals in the area on Friday.