GBCI redevelopment plan creates center for shopping, living and playing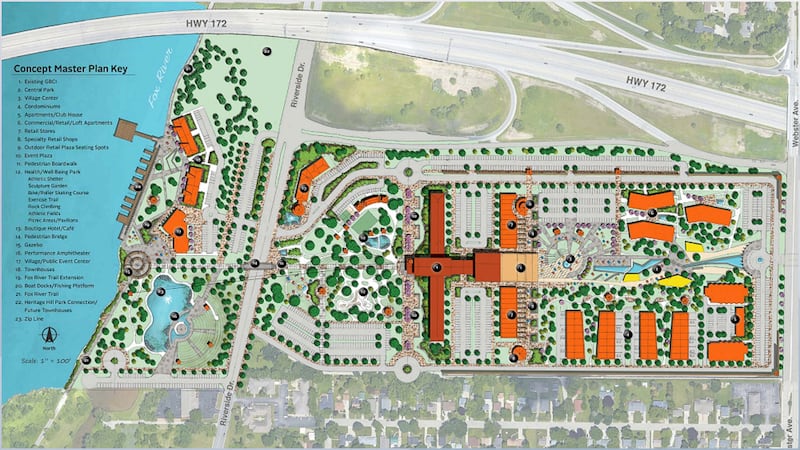 Published: Sep. 4, 2018 at 1:36 PM CDT
Retail shopping, luxury duplexes, a farmers market and an area for zip lining and rock climbing. All of these things are part of a conceptual plan for redevelopment at the current site of Green Bay Correctional Institution in Allouez.
On Tuesday, St. Norbert College released results of a study that shows a potential $138.5 million economic impact from redeveloping the prison property located off Highway 172 near the Riverside Drive/Webster Avenue exit.
"But when you come up with a plan that not only puts buildings on a piece of property, but actually creates a community within a community and has places for people to gather, and then you put numbers to it; $100 million potential is very exciting," says Jim Rafter, Village of Allouez President.
The prison is on a 50-acre parcel of land. The conceptual plan would add to that a nearby 14-acre parcel owned by the Wisconsin Department of Natural Resources.
The study found redevelopment of those 64-acres could employ 1,040 people and generate $80 million in income. That would create a domino effect of spending through the region totaling $138.5 million.
It's estimated that the redevelopment could create $1.1 million to $1.4 million in new tax revenue.
The conceptual plans include a distillery/brewery, condos, rock climbing/zip line area, boutique hotel, farmers market space, wedding venue, amphitheater, grocery store, retail buildings, a village center, coffee shop, and apartments.
The future of GBCI remains undecided. The prison opened in 1898 and needs significant upgrades to meet security needs. The options are to renovate the 120-year old building or construct a new prison in a different location.
State lawmakers are taking the next step. They could pass legislation to decommission the building or get the governor to include it as part of the state budget.
"We know the state is going to be making some important decisions this fall, and we wanted to make sure they had the numbers and info they need to make their decision," Rafter says.
Rep. Dave Steffen (R-Howard) is a supporter of closing GBCI and building a new prison in another location. He says this study is proof that the site has the economic impact to support legislation.
"We have the policy. We have the plan. The people have spoken, and now we've got the proof," Steffen says. "So we have it all together. We're ready to meet with the governor and say governor, this is a great opportunity for the Village of Allouez, Brown County, State of Wisconsin. Please incorporate into your budget. Let's make this happen."
Steffen is prepared to pitch the conceptual plan to the governor.
"In the next two weeks, I am planning on meeting with his top staff and him if I can to make a final pitch," Steffen says.
"I can tell you this, that his top staff, Department of Corrections, Department of Administration and his own staff have been watching this very closely, have been involved with evaluating it side by side with me. So we're making progress, but we need to continue this understanding, education and exploration so they have an opportunity to fully realize that this is a great opportunity for the Village of Allouez, Brown County and the State of Wisconsin."
State Sen. Rob Cowles (R-Allouez) says two additional reports could further show the governor and the legislature the high cost of maintaining GBCI.
"It's not going to happen right away, but I think it will happen in the next 5-10 years, because it's too costly to maintain these old structures," Cowles says. "When that facilities study comes out, we think in October or November, it's going to emphasize that. And the audit will give another hint, and that won't come until January or February. It'll show where the cost drivers are."