From Paralysis to Deer Stand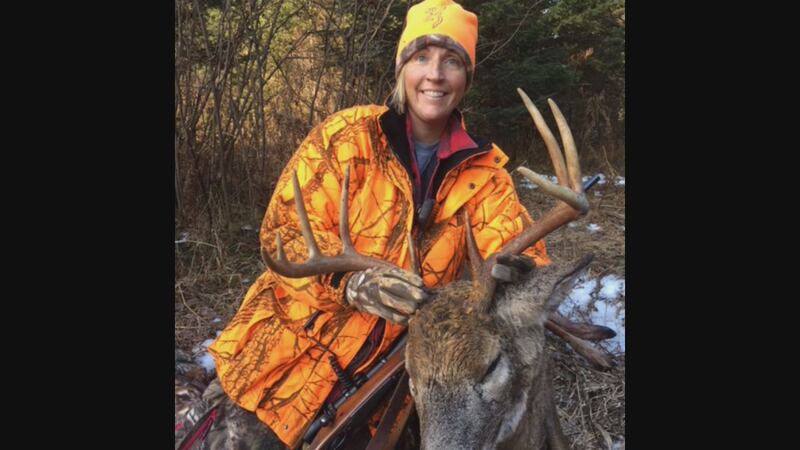 Published: Dec. 4, 2017 at 3:30 PM CST
Of all the big bucks taken by hunters during the recent gun deer season, you would be hard pressed to find one that means more than the buck Katie Walters bagged.
Just a year-and-a-half after a horrifying crash ended her career as a Manitowoc police officer, this Two Rivers woman continues to defy the odds.
It's an amazing journey from paralysis to a deer stand.
Growing up in a family that loved the outdoors, Katie became hooked on hunting and fishing.
She also had an eye on becoming a police officer.
"All through school and into college," she said, "and it was just something that was intriguing to me, so I gave it a shot and I ended up in Manitowoc."
On July 15, 2016, having just completed her 13th year on the force, Katie was off duty, driving on Highway 147 near Mishicot when she became distracted by her dog she was taking to the vet.
She lost control of her truck and rolled several times.
"I tried to get out of the vehicle and I couldn't use my hands or my arms, so at that point I knew something was wrong," recalls Katie.
Katie broke several vertebrae in both her neck and back and damaged her spinal cord.
"After surgery, my surgeon, Dr. Harrison, had come out and told my family she will be paralyzed from the neck down," says Katie.
Katie, though, wasn't about to accept her diagnosis.
"There was never any feeling sorry for myself -- 'Well, this is my situation, I'm just going to lay here in bed.' It was you can either choose to lay there and give up or you can fight," says Katie.
Within days, Katie amazed her doctors.
She had some feeling and movement in her arms and legs.
"I was basically told by my neurosurgeon, you're in the one percent. People with your injury, this does not happen to," says Katie.
An expected 10-week stay at a rehab facility in Chicago became just three weeks.
"I told them when I got there I was going to, I was going to walk out," and she did, Katie says with tears in her eyes.
With the help of My Team Triumph, Katie completed the Cellcom half marathon last spring, then set her sights on her next goal, a return to her family's deer camp in northern Wisconsin.
She'll always remember opening morning and the beautiful nine-point buck she harvested just 20 minutes into the season.
"And I was out there by myself, and it wasn't until that moment that I felt blessed. People tend to take for granted just the little things they do every single day, and it's not until you can't that you really do appreciate things," says Katie, fighting back the tears.
While Katie's injuries will never allow her to be a police officer again, she hopes the progress she's made in her recovery will inspire others will disabilities to push their limits.