Flammability of Halloween costumes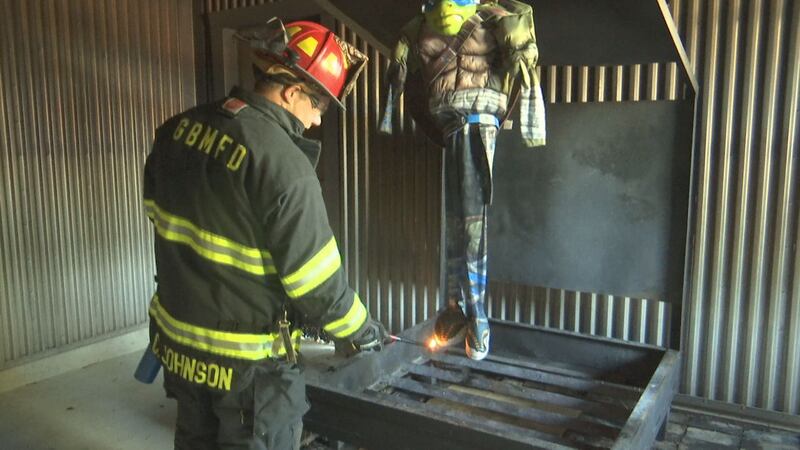 Published: Oct. 16, 2017 at 4:48 PM CDT
Before buying a Halloween costume for children, parents are advised to check the label first.
Some costume fabrics and materials failed to pass the federal standard for flammability, and open flames inside pumpkins or at Halloween parties may pose a threat.
Flames that spread in less than three and a half seconds on a six- inch length of fabric do not pass the federal standard.
Action 2 News tested the flammability of a 100 percent polyester princess costume with the help of Green Bay Metro Fire and Northeast Wisconsin Technical College (NWTC). The costume proved to be fire resistant.
"It was actually surprising, the flame spread wasn't as quickly or as violently as we thought," said Paul Breitenfeldt, Fire Science Instructor at NWTC.
"Fire resistant doesn't mean fire proof, it still will burn, it just won't burn nearly as fast," said Lt. Cody Johnson with GBMFD.
Action 2 News tested another polyester costume, a boy's Ninja Turtles outfit, but this time the costume had polyurethane foam.
"You know it had the same type of polyester, however inside the polyester was a whole bunch of foam, as soon as that was lit on fire it really took off on us," said Johnson.
"The polyurethane foam actually accelerated the fire and the flame spread in that costume, which was a little bit concerning," added Breitenfeldt.
Action 2 News also made a mummy costume out of toilet paper. The toilet paper mummy went up in flames faster than any other materials tested.
"A lot of people make their own paper mache and use cardboard like materials, but anything like that is going to flame up faster, it's going to spread faster, more violent fire, a quicker fire," said Breitenfeldt.
Those making their own costume should avoid using natural fibers like toilet paper or cotton balls, but instead use polyester, nylon or other acrylic fabrics.
The tests determine costumes with 100 percent synthetic fibers like nylon and polyester are the safest materials around an open flame.