Fire is out at Superior oil refinery; evacuation order lifted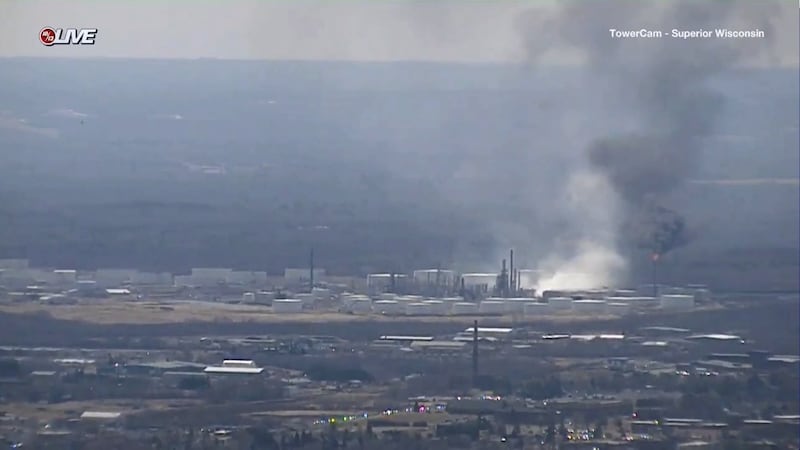 Published: Apr. 26, 2018 at 11:29 AM CDT
Authorities say the fire is out after explosions rocked the Husky Energy oil refinery in Superior and heavy smoke forced evacuations Thursday.
There's still a risk of the fire reigniting, and the danger of what's in the large smoke plume. Firefighters are still laying down foam blankets and trying to cool down the asphalt.
The Associated Press reports that police have lifted the evacuation order for Superior.
Governor Walker was on his way to meet with evacuees. He tweeted aerial video after surveying the damage and praised first responders.
"We see this often that the most successful responses are ones in where local communities are prepared," the governor said.
"Certainly there will be plenty of research done to figure out what ultimately brought about this in the first place, but to see the kind of response as much as you don't want to have this in any community. To me, any time you don't have a fatality after an explosion, that in itself is a remarkable success story," Walker continued.
Federal investigators are headed to the refinery to begin an investigation. The refinery was scheduled to shut down next Monday as part of a routine, five-year maintenance cycle, Husky Energy said.
The first explosion happened at 10 o'clock at the Husky Energy refinery in Superior. The initial fire was contained but a second explosion from an asphalt tank reignited the blaze during the noon hour.
"The biggest problem of fighting fires of this magnitude of asphalt or other petroleum product is, one, you begin an offensive operation, which would be with a combination of foam and water, you have to have enough resources to put it completely out. If you put it 95% out, the 5% will go right back to where it was. So that is what they are doing right now. They are making the determination," Battalion Chief Scott Gordon, Superior Fire Department, said before the department went on the offensive Thursday evening.
A spokesperson for Essentia Health said 11 people were transported to hospitals in Duluth and Superior. One of them seriously hurt.
Five were taken to St. Mary's Medical Center, a Level 2 trauma center in Duluth, Minn.. The spokeswoman said the patients were "awake and alert" when they arrived.
Husky Energy says there were no fatalities and all patients were stable. Essentia Health says one is in serious condition.
Essentia Health evacuated patients from Superior Hospital as a precaution, closing its clinic and pharmacy but keeping the emergency room open.
Douglas County Emergency Management ordered everyone located 10 miles south of the refinery, two miles to the north, and three miles east and west. Buses were available for evacuees who needed transportation.
It's unclear how many people were evacuated, but Mayor Jim Paine described it as "most of the city."
Shelters included an elementary school in Superior and a shopping mall and convention center in Duluth. The convention center was designed for 5,000 people but could hold 7,000 as an emergency shelter. Hotels were also welcoming evacuees.
"We are continuing to evacuate. If you do not need to be out and about, please say at home. The streets are overfilled and emergency vehicles are unable to move about as they need to. Thanks everyone for helping us with this," reads a post on the Superior Police Facebook page.
Superior Police are urging people to stay off the streets if possible.
Husky says air quality is being monitored.
says the Superior refinery processes light and heavy crude oil and produces asphalt, gasoline, diesel, and heavy fuel oils.