Cooling caps for cancer patients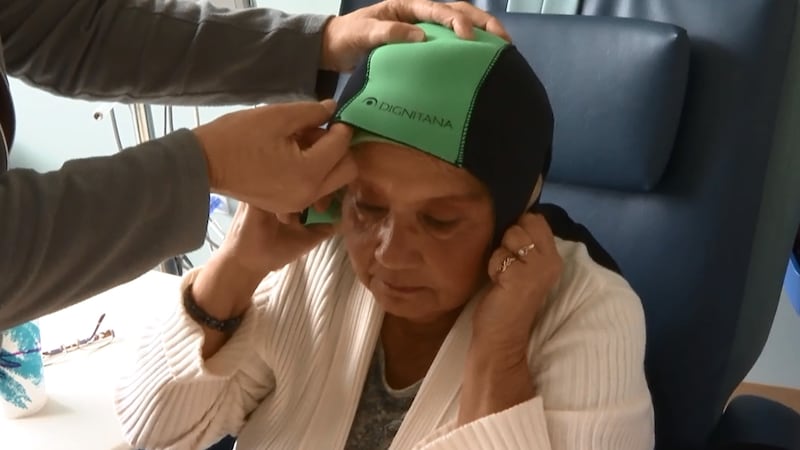 Published: Oct. 6, 2017 at 2:15 PM CDT
Patients battling some types of cancer don't necessarily need to lose their hair anymore. Originally used for breast cancer patients, the FDA recently approved scalp cooling systems for those battling other types of cancers. ThedaCare is the first in our region and the state to use this
cool tool.
Sandy Blum is battling ovarian cancer. She's about a quarter of the way through the 18 chemotherapy treatments she needs.
She says, "Not everybody knows that I have cancer, so it's kind of nice to let them look at you. And people who do say, I can't believe you're sick, you don't look sick at all. I don't feel sick. I have my days, but I don't feel sick."
And Blum doesn't think she looks sick either, despite the fact the chemo she's receiving should be causing her to lose her hair, something that hasn't happened. She says, "That was one of my biggest fears, was losing my hair."
But when Blum visited ThedaCare's Cancer Center for a wig consultation, she learned about DIGNICAP, a scalp cooling system that works to prevent hair loss in patients receiving chemo for solid-tumor cancers.
"What is does is it keeps the scalp at a consistent 32 degrees, so the chemotherapy drugs don't get up and harm the hair follicle," says Lisa Kallnhauser, a cosmetologist at ThedaCare's Cancer Center.
Every time Blum goes in for treatment, she puts on the cap about an hour before her chemo starts. She wears it during treatment and then for at least an hour afterwards.
According to Blum, "It gets cold and cold and cold and then you get that brain freeze right here and you can hardly open your eyes but then it goes numb and you don't feel it."
There are six other ThedaCare cancer patients, in addition to Blum, using the scalp cooling system, all with excellent results.
"It has a 70% success rate," adds Kallnhauser. "Out of the seven we have using it now, they've all been very successful. They will still shed. They will lose about 15% of their hair, but it's nothing anyone else is going to notice."
Giving Blum and the others using the cap some confidence as they fight for their health.
"It makes me feel wonderful, it really does," says Blum.