City of Green Bay teams up with school district for new safe walking and biking plan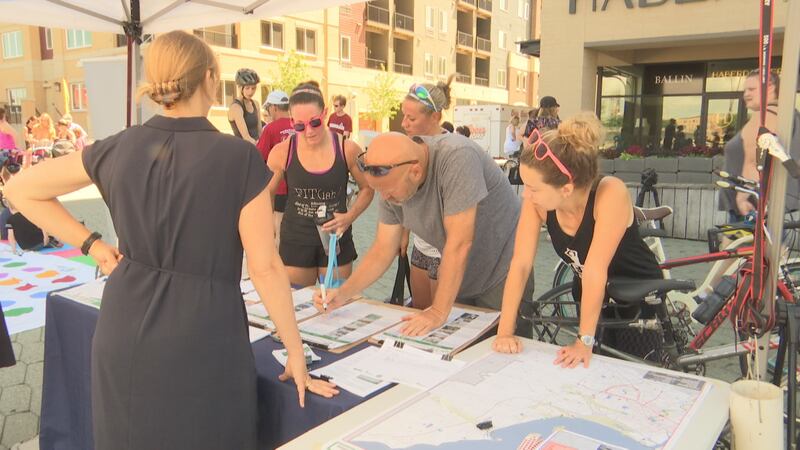 Published: Jul. 14, 2018 at 5:34 PM CDT
The City Of Green Bay and Green Bay Area Public Schools have teamed up to begin their safe walking and biking plan for the community. The people of Green Bay got a chance to give their input on ways to improve walking and biking to schools.
The city and school district gathered feedback at the 'Open Streets' event downtown on Saturday. They hired the help of Toole Design Group to come up with a plan that covers the entire school district.
"We have really gotten a lot of really wonderful feedback. A lot of people have stopped to talk to us and they're telling us about what they like about walking in Green Bay and bicycling in Green Bay and the places where the city could use some help," said Jennifer Hefferan with Toole Design Group.
"I think the biggest change I'd like to see is more social acceptance to different forms of getting around town, so biking I think if the public is more aware of the rules and safety that people would bike more often so that's what I'm looking forward to most," said Amanda Grovogel Bogacz, a Green Bay parent to two young girls.
A $248,000 grant awarded to Green Bay Area Public Schools is being used to explore safe walking and biking improvements, something Grovogel Bogacz says is necessary.
"I was really excited to see the input tent here just because I'm getting into road biking and I want my daughters to also, so I'm really concerned about safety, and I think that if the public puts their opinion out there strong enough and loud enough then hopefully the streets will get safer and more bike friendly," said Grovogel Bogacz.
"We're going to look at things like the sidewalk network, are there missing sidewalks? Especially near schools. We're going to look at improving crosswalks, adding signs and signals, we're going to look at bicycle facilities, like bike lanes and paths. We're especially trying to find if there are any gaps in the network for walking and bicycling, if we can fill those in and create a place where you can walk and bike for a lot of your trip," Hefferan says.
Hefferan says the feedback they receive throughout the year will be used to make a completed plan, which she hopes will be done by this time next year.
"Everything takes a while to get fixed so I think the earlier that I can get my opinion voiced now hopefully the safer, by the time my girls can bike hopefully the streets will be fixed," Grovogel Bogacz said.
If you couldn't make it to the 'Open Streets' event on Saturday, you can still share your opinion through an interactive map if you live in Green Bay by