Bullfrogs, Ashwaubenon give public first look at stadium plans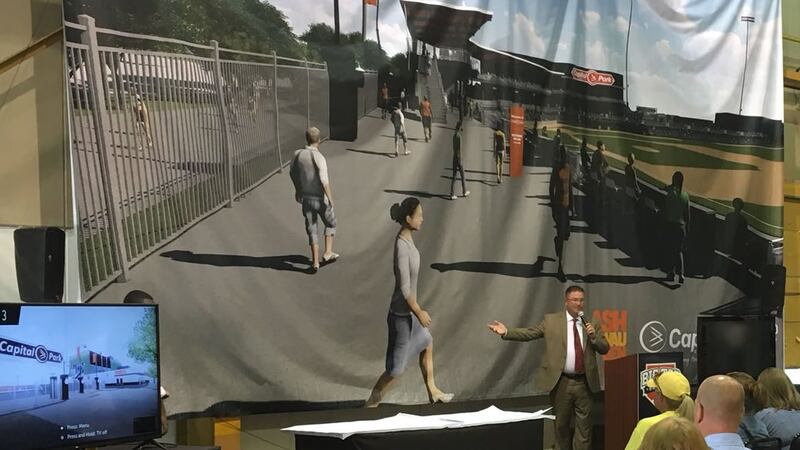 Published: Jul. 17, 2018 at 1:06 PM CDT
The Green Bay Bullfrogs and the Village of Ashwaubenon gave the public its first look at plans for a new stadium Tuesday.
Unwilling to wait for Green Bay's long-stalled Shipyard project to gain momentum, the team announced in February it was taking its $10 million stadium project to neighboring Ashwaubenon.
The site of Capital Credit Union Park is right next door to village hall on Holmgren Way, just a few blocks south of Lambeau Field.
When it's finished, Capital Credit Union Park can seat 3,359 fans, including suites and grass seating. During the unveiling, community members were able to put down deposits for priority access to seats in the stadium.
The ballpark is set to open for the 2019 Northwoods League season, meaning construction needs to be finished by May.
Much of it will use the former CTI Concrete building already on the lot, providing space for team offices, locker rooms, restrooms, concessions, box office and a team store.
The multi-purpose stadium will be used for baseball, soccer, concerts and community activities.
"It's a great bridge between our retail district, our sports and entertainment district, the Titletown district for the Packers. It just all works well together," says Mary Kardoskee, President of Village of Ashwaubenon.
Pendulum Studios out of Kansas City has been hired for the design and engineering of the stadium. RODAC Development and Construction out of Hobart has been put under contract for building the stadium.
The project's architect told Action 2 News it was a swift planning process but one he feels will be a different and better experience for baseball fans.
"You look at a lot of facilities and you've got 10 or 12 rows. We've got six rows with a concourse that you walk around. So when you compare this to other facilities, you're going to be closer to the action than many facilities, which is going to be pretty dynamic," Jonathan Cole said.
Big Top Baseball is also considering changing the Bullfrogs name to reflect a new era for the team. It's encouraging fans to submit suggestions on
by Friday, August 31. Fans will then be asked to vote on the name with a chance to win prizes.
Ashwaubenon's Site Plan Review Committee took up the stadium renderings Tuesday afternoon.
As we mentioned, the Bullfrogs originally planned to move from their current stadium in Joannes Park on Green Bay's east side to a new stadium in the planned Shipyard district on Green Bay's near-west side.
The proposal for the new stadium and the Shipyard development languished in the city council.
Ashwaubenon Village Manager Allison Swanson says the Bullfrogs approached the village about the project, which led to negotiations.
In February, Big Top Baseball, owner of the Bullfrogs,
from Green Bay to Ashwaubenon