Brown County Sheriff honors heroes of the community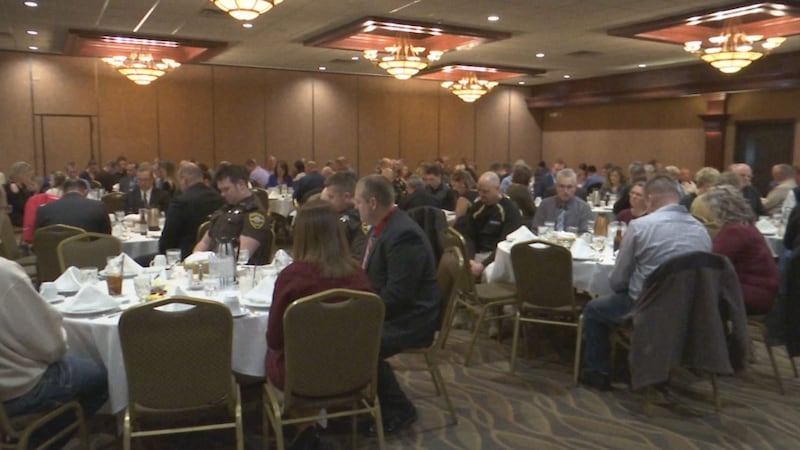 Published: Feb. 5, 2019 at 10:14 PM CST
On Tuesday dozens of people received honorable awards from Brown County Sheriff, Todd Delain. The awards were given to people and officers who played a part in saving lives, and help put an end to criminal activity in the community.
From good Samaritans to law enforcement, 46 courageous people helped make Brown County, a better and safer community.
"This is our opportunity to recognize individuals for going above and beyond to keep Brown County safe," said Delain.
Marsha Loritz, received a certificate of appreciation for her efforts in supporting families of missing persons. She founded the Wisconsin Missing Persons Advocacy, after her own mother went missing six years ago.
"When we found ourselves in this situation six years ago, I didn't have anywhere to turn to," said Loritz. "It was very lonely, it was a struggle, and I just don't want anyone else to go through that."
Good Samaritans, Peter Ducheny and off-duty Kewaunee County Deputy Brian Schultz risked their own lives to save a man from a burning car, using a hammer.
"A guy came with a hammer and he chiseled a hole through that window, I went around to the other side and I told the guy in the car, I said 'this is going to hurt, but you're going to burn if we don't get you out of here,' and I just started grabbing and I pulled him and dragged him outside the car," said Deputy Schultz.
"I don't see myself putting my life above someone else's," said Ducheny. "Someone needed help and I don't know that others would stop and make that sacrifice, so I did."
Area criminal investigation teams involved with notable cases, like the murder of Nicole VanderHeyden, recognized for their outstanding work.
"It is nice to be recognized for the hard work that myself and the other investigators put in on this case to bring closure for Nicole's family," said Sgt. Brian Slinger, who won the Brown County Officer of the Year Award.
Correctional officers, who Delain says don't receive much recognition, were also honored Tuesday.
"In many cases, our correctional officers are not treated very respectfully, and yet they're still supposed to hold themselves to a high standard, and they always do," said Brian Laurent, who took home the Brown County Correctional Officer of the Year Award.
Sheriff Delain says there's not enough ways to say thank you to the dozens who are perfect examples of selflessness. Delain hopes Tuesday's recognition will make it known, that there are superheroes walking among us every day.