Brown County health officials investigating origin of new coronavirus case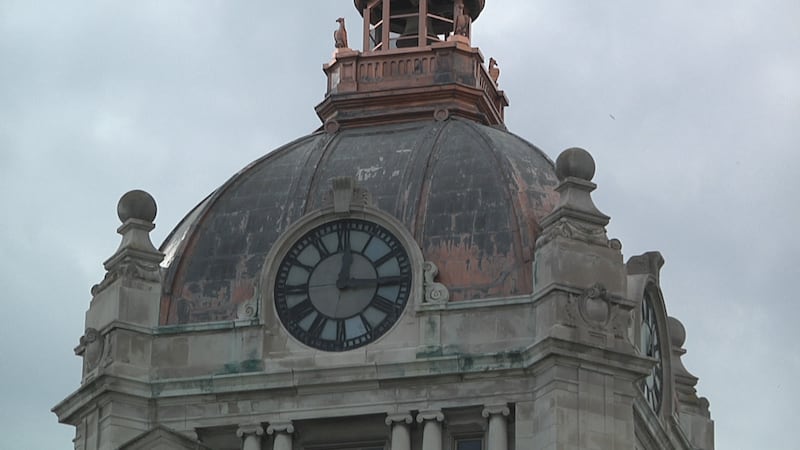 Published: Mar. 18, 2020 at 10:23 PM CDT
A state of emergency has been declared in Brown County after health officials announced two confirmed cases of coronavirus, also known as COVID-19.
Officials announced the decision in an emergency order late Wednesday night. The county also disclosed that the second patient had spent time in and around the Brown County Courthouse.
Health officials are now investigating how the person got the virus.
"Being as that we got the test results late afternoon yesterday, our surveillance team is going out and doing that contact tracing and investigation right now, today," says Ted Shove, Brown County Health Department. "So we don't have that type of information right now, but that is something that investigation should reveal."
There are some unknowns as to what this person was doing before testing and after testing.
"We do not have enough information as to what the second case ... what their behavioral habits were, but the initial indications are that they, for the most part, were self-quarantining," says Shove. "But in terms of a mandatory health order for a quarantine, nothing to date has been issued."
The Brown County Health and Human Services - Public Health Division was made aware of the second case on March 18. The Courthouse and District Attorney's Office were closed Thursday for cleaning. The county hopes to reopen the building to the public Friday.
"Right now, it is the strong desire to get it completely cleaned and sanitized by the end of the day so they can resume normal operations tomorrow [Friday] morning," says Shove. "That is the intent, and that is the goal."
VISIT
for complete local, national and international coverage of the outbreak.
It's not known if law enforcement officers who may have interacted with the person at the courthouse have been tested.
"I don't know that they are being tested at this time," says Shove. "If they're not exhibiting symptoms or they're in respiratory distress, there's not really a need to test them."
Shove says the county does not know how many tests are pending right now.
"I can tell you that the state laboratory is pretty overwhelmed with cases right now," says Shove.
People who are concerned about possible exposure are asked to contact the health department.
The health department will reach out to you if you are listed as a possible contact.
"If somebody was concerned that they were in contact with the individual that did test positive--this would go for the two cases--we, as in Brown County Public Health, as we go through these investigations and contact tracing," says Shove. "We'll be contacting people and interviewing them to see if and what extent the contact that they've had with that individual. If we are not contacting you, the chances are very high that we are not in contact with that individual."
The situation at Brown County's hospitals is changing, but Shove described them at "a comfortable capacity."
"We all have to act like we have the disease. This isn't about trying not to get COVID-19, it's acting like you have it," says Prevea Health President/CEO Dr. Ashok Rai. "So whether it's the Brown County Courthouse, the Appleton airport or business X or Y, we have to act like that."
"Is there an increased risk because we know there was a case there or a case in Appleton? Slightly. But once again, you don't know what you came in contact with, you don't know who you came in contact with. And that's why we really want to stress you have to act like you have it."
"Having it in Brown County, having people we know--and people we know are going to catch COVID-19--having people we know have it makes it real. And I hope we all now look at it as a real thing. Now it's a real enemy. Now it's time to combat it," says Dr. Rai.
to track the outbreak in Wisconsin.
THE SPREAD AND PREVENTION
Older people and those with underlying health conditions (heart disease, diabetes, lung disease) are considered at high risk, according to the Centers for Disease Control and Prevention. People with those conditions should take the proper precautions.
COVID-19 is spread when an infected person coughs or sneezes.
"The virus is found in droplets from the throat and nose. When someone coughs or sneezes, other people near them can breathe in those droplets. The virus can also spread when someone touches an object with the virus on it. If that person touches their mouth, face, or eyes the virus can make them sick," says the Wisconsin Department of Health Services.
Symptoms include fever, cough, and shortness of breath.
for more information on symptoms. Emergency signs include pain and pressure in the chest, confusion and bluish lips or face.
The CDC believes symptoms may appear between two and 14 days after contact with an infected person.
DHS recommends
to help stop the spread of the virus:
Wash your hands often with soap and water for at least 20 seconds, especially before eating and after going to the bathroom, blowing your nose, coughing, or sneezing. If you do not have soap and water, use an alcohol-based hand sanitizer with at least 60% alcohol. Always wash hands with soap and water if hands are visibly dirty. Avoid touching your eyes, nose, and mouth with unwashed hands. Avoid close contact with people who are sick. Stay home when you are sick. Cover your cough or sneeze with a tissue, then throw the tissue in the trash. Clean and disinfect frequently touched objects and surfaces using a regular household cleaning spray or wipe.
The Centers for Disease Control and Prevention is recommending everyone in the United States avoid large events and mass gatherings for at least eight weeks.