Barron community celebrates Jayme's return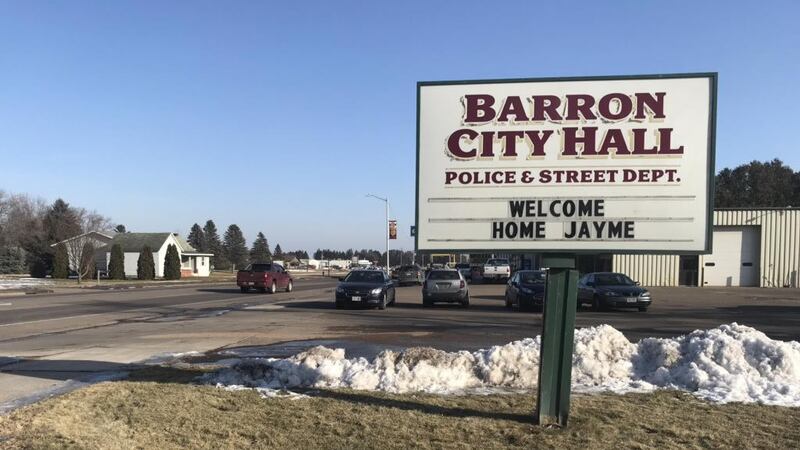 Published: Jan. 11, 2019 at 3:26 PM CST
"We've all been praying and praying and praying," Allen Klingelhoets, a resident of Barron, Wisconsin, said.
A community's prayers for Jayme Closs' safe return have been answered.
"The community has held on to hope, because we always believed she would be found. And people and schools, we all tried to gather, we all tried to talk about and put signs up about her," Klingelhoets said.
Outside Barron City Hall the sign reads "Welcome Home Jayme."
It's one sign among dozens throughout the community at restaurants, churches, and other businesses and organizations celebrating Jayme's safe return.
"It's totally amazing," Klingelhoets said. "I don't have television at home, so across from my house is Four Square Church. They have a sign that said that Jayme was found, and I just absolutely cried."
Some told us they were so excited they couldn't sleep and tears filled their eyes.
"There are no words. I just feel like crying, I'm so happy. That's the truth," Kay Holten from nearby Prairie Farm said.
The news of Jayme's discovery brings a sense of relief to people living in this area who've been holding out hope for nearly three months. They tell us the murders of Jayme's parents and the kidnapping of the 13-year-old girl on October 15 sent fear through the community.
"Now we actually have the person that did it, and we have Jayme in good health, and we will be able to find out. But, we needed this to have closure," Klingelhoefs said.
Many people who spoke with Action 2 News Friday said this was the best outcome they could imagine. They are overwhelmed that not only was Jayme found, but she was found alive.
While they have many unanswered questions, the focus is on Jayme coming home.
Barron schools Superintendent Denise Tremblay said, "Will our district be holding a celebration or ceremony in the community of any sort? All I can say to that at this point is...
"
People in Barron acknowledge Jayme still has a long recovery ahead of her after this ordeal. They say they'll support her in any way they can.