Ashwaubenon police: Stop stuffing Smoke the Turkey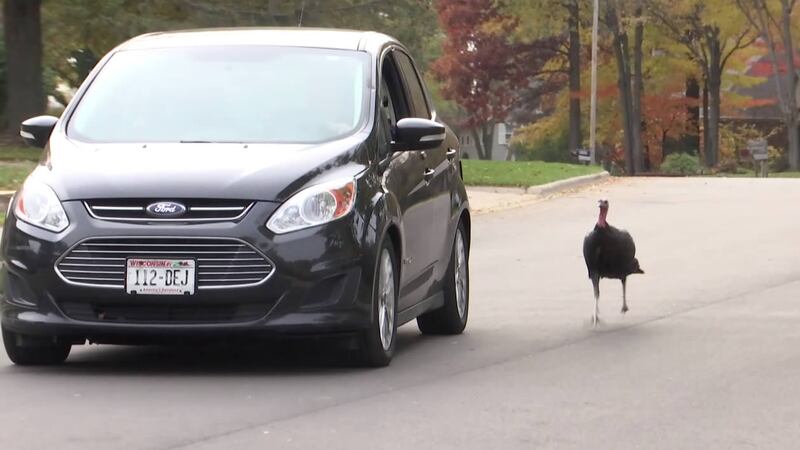 Published: Oct. 25, 2018 at 12:23 PM CDT
Ashwaubenon Public Safety officers are asking people to stop feeding a turkey that's ruffled some feathers in the village.
The turkey has made a neighborhood his home, and some people in that neighborhood have made it official -- feeding him, naming him "Smoke" and even creating a Facebook page for him, called "Smoked Turkey-Mayor of Ashwaubenon." People have flocked to the page to post photos and video of their encounter with the turkey.
But Public Safety officers say the turkey is a threat to public safety.
Some residents complain that Smoke is ruining their yards. Sometimes he runs into traffic. He's been known to chase people, cars and bikes.
"I think it's like his hobby to go out there when it's like busy and people are getting home from work and trying to rush through traffic. He somehow finds the time to do it on busy hours," said Tammy Czachor, who spots Smoke in the neighborhood a few days each week.
Neighbors say Smoke first showed up in the spring and never left. Some say he didn't blend in with the other flocks of turkeys in the area.
"He seems to be like estranged from them, so he's kind of off on his own. So, yeah, he just does his own thing and they probably kicked him out of the gang. I don't know. Maybe it's because he is a little obnoxious, but I think that's endearing to him," Czachor said.
Smoke likes to interrupt traffic, and police say it's probably because people in the area are continually feeding him.
"We've had people in cars stopping and throwing bread out the windows and things like that. Don't do that. It's not doing that turkey any favors. It's teaching that turkey to stay on the roadways, and that's going to get that turkey killed," said Public Safety Captain Jody Crocker.
According to village ordinance, it's illegal to feed wild deer and turkeys in Ashwaubenon. Police say you could get a $187 fine.
"We are getting to that point where if we keep getting complaints or have problems, it's going to be a complaint-oriented deal that we'll have to write a ticket for," said Crocker.
Even with Public Safety warning people not to feed Smoke, those who love him say he's not causing any harm.
"He just doesn't have any fear. I've never seen him personally attack anybody, but you know he has chased cars or pecked at people on bikes, but I've never seen him do anything violent," said Czachor.
Some have even gone as far as getting "Turkey Crossing" signs to put on their yards.
"I think at this point he's already been tamed and he's used to being around people, so I think trying to, you know, transplanting him somewhere else, I don't see the point in it," added Czachor.
"It really is a public safety problem, but it's also Mother Nature," Crocker said, "and if people leave Mother Nature alone, it will mend itself."
A Facebook post from Ashwaubenon Public Safety reads, "We encourage allowing nature to be nature and allow Smoke to move along and find suitable companionship rather than roaming on our streets right next to I-41 which in no doubt may just get the best of him."