5, 6 & 10 News Anchor
Green Bay, Wis.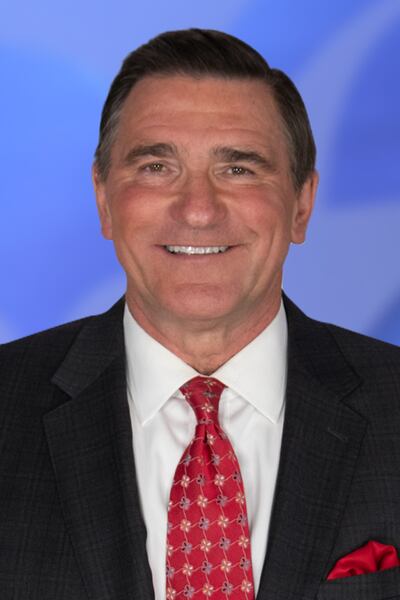 Raised in Clintonville, Wisconsin, Bill Jartz earned All-State recognition as a high school football player. He received an athletic scholarship to attend Northwestern University, where he graduated in 1980 with a Bachelor of Science degree in journalism. "I was always interested in journalism and sports, and this is the perfect combo. TV is where it's at when it comes to live sporting events."
Bill began his career as the 10 o'clock sports anchor at WSAW-TV in Wausau, but confesses he felt ecstatic about coming to WBAY-TV in 1983. "I grew up watching Channel 2," Bill recalls. "I'm lucky enough to have hooked up with the best."
As the WBAY sports director, Bill won the admiration of Northeast Wisconsin's sports fans, performing play-by-play duties for pre-season Packer football games, and hosting the award-winning "Monday Night Kick-Off" throughout the regular schedule.
His personal experience and strong work ethic helped Bill earn the Wisconsin High School Baseball Coaches Association Media Award in 1989, and also the WIXX Media Personality Award.
In late October, 1998, Bill followed the path of another sports veteran-- Chuck Ramsay-- to assume a new challenge as a news anchor, joining Cami Rapson on Action 2 News at Ten. Bill felt it was time for a change, and it also gave him weekends free to spend with his wife, Mary.
Four years later, with the retirement of the venerable anchor, Bill followed in Chuck's footsteps again to assume the mantle of 5 and 6 p.m. co-anchor.
On Green Bay Packers home game days, Bill can be heard as the Voice of Lambeau Field. He started as the public address announcer with the 2005 preseason.
Bill has appeared on the Cerebral Palsy Telethon and proudly supports Childrens Wisconsin and the March of Dimes. He's also involved in Ducks Unlimited, Whitetails Unlimited, ASPIRO, among others.
Married since 1984, Bill and his wife own two dogs and enjoy relaxing with friends at home. Bill's other interests include hunting, fishing, and physical fitness. When the opportunity arises, he also likes assisting at a friend's dairy farm. "It takes me back to my roots," Bill explains.
Updated: Mar. 13, 2023 at 6:00 PM CDT
|
Joe Schmit says getting a job at WBAY was a dream come true. His tenure was short, but he says WBAY viewers are still seeing his legacy every day.
Updated: Jan. 18, 2023 at 6:46 PM CST
|
Chuck Ramsay was inducted into the Wisconsin Broadcasters Hall of Fame in 2003.