Packers shake off the season's trends, shock the Chargers with 4th quarter comeback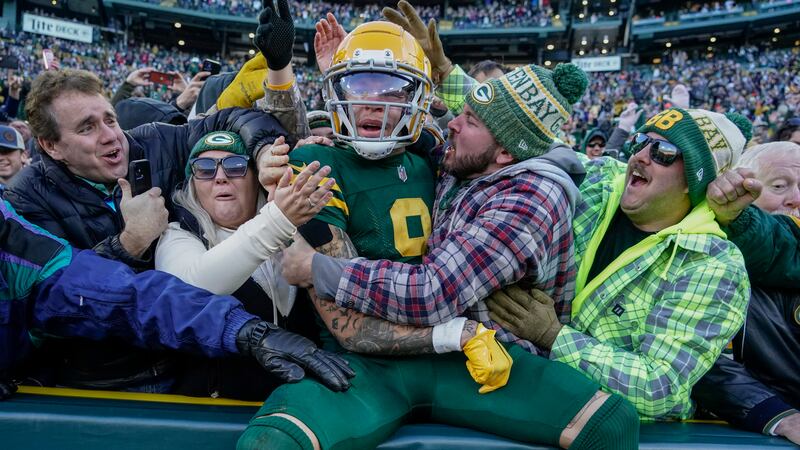 Published: Nov. 19, 2023 at 3:12 PM CST
GREEN BAY, Wis. (WBAY) - The Packers bucked a season's worth of negative trends with a 23-20 win over the Los Angeles Chargers.
This game got off to a weird start, with a nice kickoff return by Keisean Nixon being wiped out by a holding penalty and an unsportsmanlike conduct against an official penalty on Dallin Leavitt.
The Packers and the Chargers would then both turn the ball over on downs before Los Angeles would get on the board with a chip shot field goal after a 79-yard drive down the field.
The Packers would kick the 2nd quarter off with a jolt, in the form of a 32-yard TD pass to rookie Jayden Reed. That lead would be short-lived, as the Chargers punched back with a Justin Herbert pass to Stone Smarrt, who shook off Jonathan Owens en route to a 51-yard touchdown and a 10-7 lead.
The Packers next drive was a messy one, plagued by incompletions and penalties, with a missed 52-yard field goal as the bow on top.
Anders Carlson would get it back at the end of the half, knocking home a 28-yarder to tie the game at 10.
On the other side of the halftime break, the Chargers would knock in a chip shot of their own, 28 yards for a 13-10 lead.
After trading punts, the Packers struck on a big drive. A tight-rope catch and run touchdown from Tucker Kraft was ruled out of bounds, but only 2 plays later, Jordan Love connected with Christian Watson for an 11-yard touchdown to put the Packers up 16-13 just before the half. Carlson's kicking woes continued, as he missed the extra point.
After the start of the 4th quarter, the Packers defense would come up with a critical fumble.
With the Chargers driving thanks to big catches from Donald Parham and Keenan Allen, Kenny Clark would get the ball out of Austin Ekeler's hands and force the fumble for Rashan Gary to scoop up.
Unfortunately, the Packers would score nothing off that turnover, and punt it right back to Herbert and the Chargers.
Who promptly took it straight through the Packers defense on an 11-play, 63-yard drive capped off by a Keenan Allen touchdown to put the Chargers back on top, 20-16.
With 5:24 left on the clock, it was "Prove It" time for Jordan Love and the much-maligned Packer offense, who hadn't scored over 20 points since Week 2.
The drive began with a near-disaster, as Love nearly gave the ball away on a Khalil Mack sack, but Zach Tom managed to fall on it.
Dontavyion Wicks would bail the Packers out of that 3rd & 20 by drawing a defensive pass interference, and then 2 plays later turned a short sit route into a 35-yard catch and run to get the Packers into LA territory.
And then, with 2:33 left in the game, Jordan Love uncorked a 24-yard pass to Romeo Doubs, and the Packers took a 23-20 lead.
That touchdown also pushed Jordan Love over 300 yards passing for the first time in his career, making him the first Packers QB since 2021 Aaron Rodgers to throw over 300 yards in a game.
A strong three-and-out, punctuated by a Rashan Gary sack, would eat all of the Chargers timeouts and set up a last gasp for Los Angeles with just 1:28 left.
After a fumbled snap on 2nd down that the Chargers managed to jump on, a defensive pass interference on rookie Anthony Johnson Jr. would give them a 1st down.
With 23 seconds left, Chargers rookie Quentin Johnston dropped a deep ball that would've been a touchdown, highlighting a theme of dropped passes from Chargers wideouts.
And that was all that was written. Kenny Clark batted down a 4th & 1 pass from Justin Herbert, and the Packers assumed victory formation to close out the win.
As a last note, this game was constantly marred by injuries, starting from the very first drive.
By the 3rd quarter, the Packers were down to only A.J. Dillon in the backfield, as Aaron Jones left with a knee injury and Emanuel Wilson was ruled out with a shoulder injury. Linebacker De'Vondre Campbell also went down with a stinger, and tight end Josiah Deguara also missed some time with a hip injury. And finally, late in the 4th quarter, wide receiver Dontayvion Wicks went to the tent with a possible concussion.
On the other side of the ball, Chargers defensive end Joey Bosa left the game with a foot injury, and later, linebacker Tanner Muse would exit with a knee injury.
The Packers moved to 4-6 with the win, while the Chargers fell to 4-6 with another loss by 3 or fewer points.
The Packers have a short turn-around next week, matching up with division rival Detroit for an 11:30 a.m. game at Ford Field on Thanksgiving.
Copyright 2023 WBAY. All rights reserved.