CHANCE OF A MIX TUESDAY MORNING, PRETTY QUIET OVERALL FOR THANKSGIVING WEEK
Your First Alert Weather Forecast:
Published: Nov. 19, 2023 at 3:51 PM CST
|
Updated: Nov. 19, 2023 at 9:49 PM CST
The big Thanksgiving travel week is finally here and I'm happy to say that there won't be too many problems for our region this year. We can all be thankful for that, right? Temperatures will cool down into the 30s for the long holiday weekend.
Tonight... mainly clear during the evening with increasing clouds late. Lows will range from the mid 20s (NORTH) to the mid 30s (SOUTH). Patchy frost could lead to a few slick spots on area roadways overnight so be alert if you happen to encounter it.
Clouds thicken Monday but I think we're going to remain dry. Highs in the low to mid 40s remain on track, which is close to the average of 41°.
Our next weather maker will spread a little light rain and/or snow into our area Tuesday morning. The highest odds of precipitation look to be southeast of Green Bay and the Fox Cities. Any wintry weather appears limited at this time. If snow were to occur, the majority of our model guidance suggest only minor amounts and limit impacts. This could change a bit so stay tuned for the latest updates. Things settle down by Tuesday evening just in time for the Christmas Parade Tuesday. Temperatures are expected to be in the upper 30s but breezes will make it feel like the upper 20s.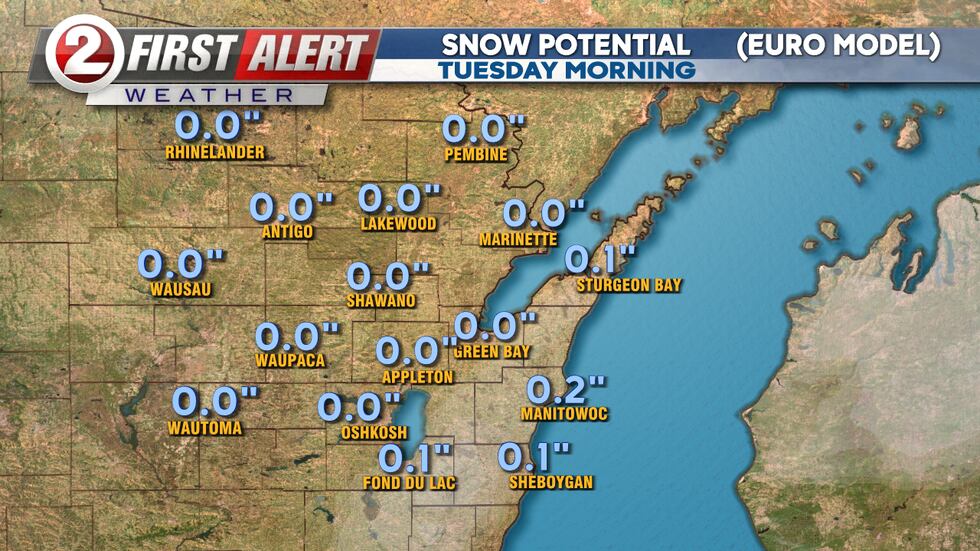 A dry & quiet pattern sets up starting Wednesday and will continue through the holiday weekend. This means hunters should expect the rest of gun deer season in WI to be snow free. Highs in the 30s are likely for most of us during this time with overnight lows in the 20s. That's a bit cooler than average for this time of year but nothing we can't handle.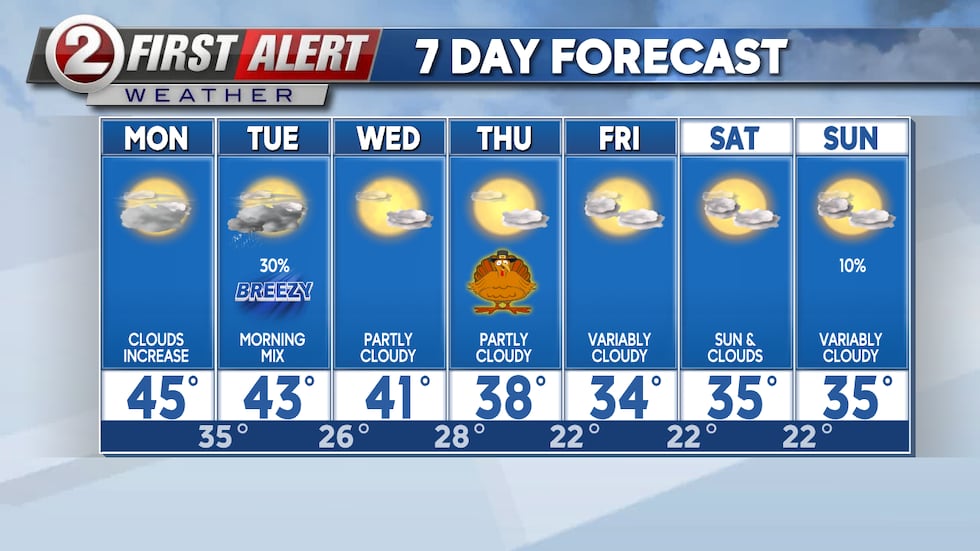 We've reorganized your favorite weather graphics. They're now in our new First Alert Map Room, which can be found here: Go to the First Alert Map Room
You can always keep our forecast handy with our free weather app. Look for the WBAY First Alert Weather App in the Apple app store and Google Play (click here on your mobile device).
WIND FORECAST:
TONIGHT: E 3-7 MPH
MONDAY: ESE 5-15 MPH
TUESDAY: N 10-20+ MPH
TONIGHT: Mainly clear evening. Increasing clouds late. Chilly. LOW: 29
MONDAY: Turning cloudy. Seasonable. HIGH: 45 LOW: 35
TUESDAY: Mostly cloudy. Rain/snow mix possible in the morning SOUTHEAST. Turning breezy. HIGH: 43 LOW: 26
WEDNESDAY: Partly cloudy. Breezy at times. Good travel weather. HIGH: 41 LOW: 28
THANKSGIVING: Partly cloudy. Seasonably chilly. A little breezy. HIGH: 38 LOW: 22
BLACK FRIDAY: Variably cloudy. Chilly. HIGH: 34 LOW: 22
SATURDAY: Mix of sun & clouds. HIGH: 35 LOW: 22
SUNDAY: Variably cloudy. HIGH: 35
Copyright 2023 WBAY. All rights reserved.