SMALL TOWNS: Chucky dolls help fund Mishicot haunted camp
Published: Oct. 19, 2023 at 6:30 PM CDT
|
Updated: Oct. 19, 2023 at 6:56 PM CDT
MISHICOT, Wis. (WBAY) - A Manitowoc County man credits the camp he grew up next to for inspiring his successful career making terrifying dolls.
And now he's giving back to that camp, by scaring people every October.
This week in Small Towns, we visit the spooky Camp Tapawingo outside Mishicot.
Nestled in the woods of Camp Tapawingo, a creepy experience awaits when the sun goes down.
"So, we'll have the pumpkins all lit up, these scarecrows will all be lit up," explains Garrett Zima giving us a tour.
It's like a mini–Universal Studios, designed to frighten.
Haunted Voyage is Garrett's creation.
"One thing I love about our haunt is that a lot of the actors, each one of them will spend time a little bit with you a do a performance, rather than a quick scare and go away, I think that's one of our strengths," says Garrett.
As a kid, Garrett lived next to the camp, and every fall when it became a haunted camp, he became fascinated.
"I would just have my window rolled down and you'd hear all the yelling and screams and chainsaws and it was like gosh, what's going on over there," recalls Garrett.
Too scared to go through the haunt, Garrett volunteered to be a young actor to draw out the screams.
"I just liked the fact it was entertaining, and people liked getting scared," explains Garrett with a smile.
After high school, Garrett launched a career as a wedding photographer, but also dabbled in making spooky Halloween props, which he posed on social media.
One day out of the blue, a phone call from a Hollywood special effects artist.
"I was approached to work on one of the Chucky movies, it was like the 7th installment, and they reached out, saw the work I was doing on other things, and they thought, ok you can do that and you can do this," says Garrett.
Soon after, another big break.
"Trick or Treat Studios, a company in California reached out to me and they wanted to produce toys and they had the license through Universal Studios, and we started producing these dolls, mainly I started off making nice Chuckies and then now we're making some angry versions of them," explains Garrett.
Garrett's Chucky dolls became an immediate success.
"You wouldn't believe, there's so many fans of Chucky, it's huge in Japan, so I sell a lot to Japan and people just buy the stuff up in the thousands of dolls, I've seen pictures online where someone has a mock-up of 20 of them in their man cave, and it's like ok, it's cool you know," says Garrett with laughter.
In 2016, with Garrett's career taking off, he had another vision.
"I reached out to the camp and said hey, you haven't done a haunted camp in a long time, would you be interested in me doing that for you," says Garrett.
And as 50/50 partners, Garrett vowed to fund the haunt himself, and not cut any corners.
"Here it's like real, like movie quality sets that we build out there and it actually looks legit, we have all these fake cabins built out there and they're not real, they're just facades and people love it," says Garrett.
Garrett says preparations start in spring, with building sets and tearing down old ones.
In late summer, things really ramp up.
"In the month of September, I don't do anything but I'm here every day, rain or shine I'll just be out here, have my raincoat or I'll be working somewhere inside with electronics because there's a lot of computer stuff going on in there too to make it very interactive," explains Garrett.
Each fall, the camp averages around 2,000 thrill seekers.
And while Garrett is happy to just break even, he ensures the camp reaps the rewards with proceeds, his way of giving back.
"I'd probably be better off working at McDonald's part-time making money than working here, but the camp can use that money, I think last year or two years ago they bought a tractor," says Garrett.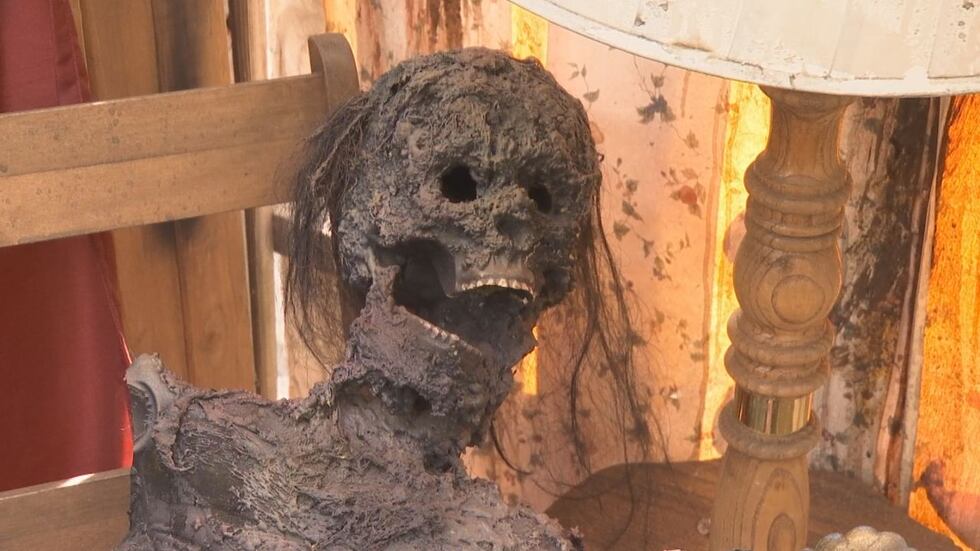 Once Halloween is over, Garrett will resume his next goal of creating original products for the haunted house industry.
He's off to a good start making extremely realistic rabid raccoons.
"These are kind of the spooky ones, there's a company, they build realistic raccoon plush and then I take them, and I actually molded some taxidermy teeth and made castings off that, and I hand paint all the teeth and then I put them in, and this is actually tabletop epoxy that's been tinted with a drop of blue and some red dye," explains Garrett.
The camp is filled with Garrett's raccoons, and one giant one.
"The actor will just puppet it like this and can give it a little attitude, and then the scare," demonstrates Garrett, as the giant raccoon growls and howls.
A camp with plenty of scares thanks to a 29-year-old man living a dream, he never quite imagined as a 12-year-old boy.
"It's very rewarding for me and I'm just fortunate that I can survive off of doing the Chucky stuff and other Halloween stuff and then be able to do this as well," says Garret with a smile.
Copyright 2023 WBAY. All rights reserved.