Wicks and fellow receivers stepping up in Watson's absence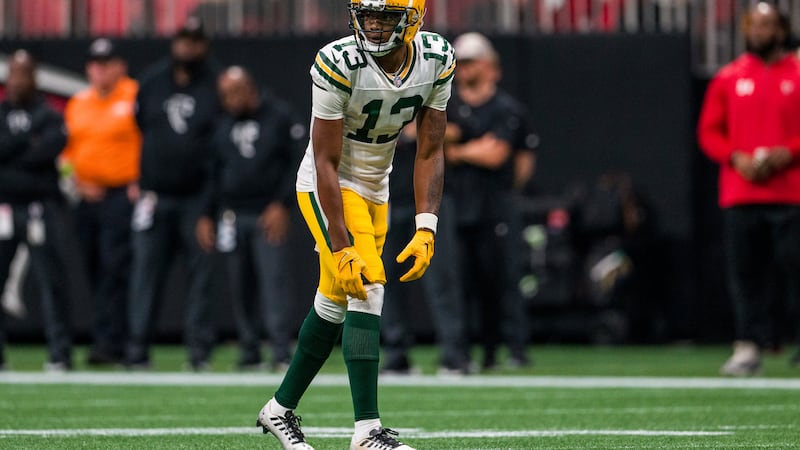 Published: Sep. 21, 2023 at 7:08 PM CDT
GREEN BAY, Wis. (WBAY) - The Packers have the second youngest offense in the entire NFL. That's especially true for their wide receiver group.
A unit that has even less experience on the field with Christian Watson sidelined due to a hamstring injury.
"We're literally taking this day by day. So, there's no point in risking anything. I don't help the team at all if I'm going on Thursday and I can't go in a game, or I go today and I take a couple steps back. That's really not helping anybody. That's definitely not helping me. We're just taking it as it is and I'm just trying to feel as good as I can," said Christian Watson.
The Packers second year wide receiver sat out practice after being limited last Friday and on Wednesday. Head coach Matt Lafleur saying Watson's absence on Thursday was not because of a set-back, but rather a planned rehab day.
Watson feeling the itch to get back on the field, but remaining mindful that there's no need to rush the speedster back to quickly.
"My competitiveness and my want to do what I love. I want to play football. I don't want to watch football. It's definitely tough, but I mean I've just got to control what I can control," said Watson.
If Watson is unavailable, that opens the door for other young receivers. That includes rookie Dontayvion Wicks, who led the Packers with 40 yards receiving against Atlanta and scored the first touchdown of his NFL career.
"After we catch the ball it's on us to get what we want out of it. I seen touchdown right there. That's what I was seeing. Making one miss and that's all I had to do," said Wicks.
"I think he's a really smart player. That he can pick stuff up fast. You see it on the field. He's going to make guys miss. Just keep getting him in the loop and keep getting him opportunities to make plays is key for us," said quarterback Jordan Love.
Wicks missed part of training camp with a hamstring injury of his own. Now the fifth round pick is getting up to speed in a unit that can still run five deep.
"We just step up when our number is called. That's something me and Reed talk about all the time. Just stepping up when our number is called because opportunities they come and go," said Wicks.
The Saints will be the next test for that unit, and the Packers' passing game as a whole. New Orleans holding their opponents to just 160 yards passing a game thus far with three interceptions through two weeks.
"Obviously (Marshon) Lattimore, 'Honey Badger' (Tyrann Mathieu), I mean they've got a ton of players on that defense and they challenge you. They are a physical bunch and they play with extreme effort. When you get effort, plus scheme, plus talent, you have one of the best defenses in the National Football League," said head coach Matt LaFleur.
Copyright 2023 WBAY. All rights reserved.