Bakhtiari: turf had nothing to do with Atlanta absence
Left tackle says "no way I would even think like that"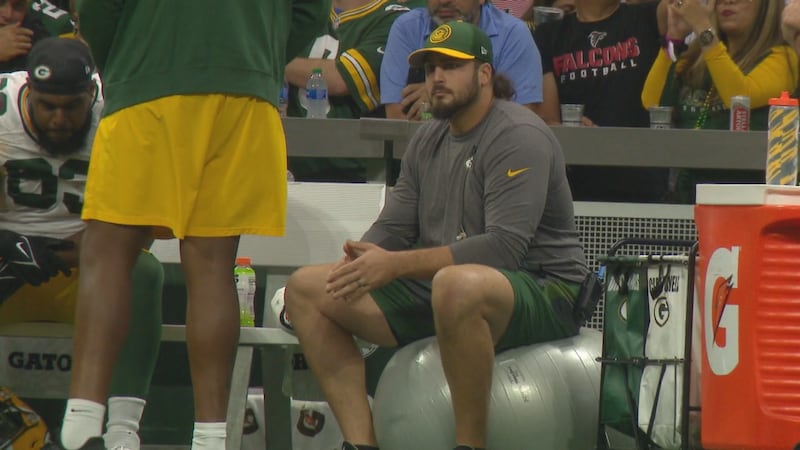 Published: Sep. 20, 2023 at 5:09 PM CDT
GREEN BAY, Wis. (WBAY) - Last week Packers left tackle David Bakhtiari raised eyebrows, and questions, by saying that he didn't think it was appropriate to discuss whether or not he would skip games played on turf due to his strong feeling about how they lead to more player injuries. When Bakhtiari then missed a game played on turf Sunday, those questions only grew louder.
But Wednesday the All-Pro tried to put all such discussions to bed.
"If I wasn't going to play on turf I probably would have raised more of a ruckus," Bakhtiari said. "No, that wasn't the reason. At all."
"I clearly have an injury that I have been dealing with. But I would never leave (my teammates) hung out to dry. I signed up to play. I plan on playing. And when I can play I am playing. And when I'm not playing there is clearly something going on. You think I want to be a great football player and then disappear? F*** no. You think I am scared to say I didn't want to play because of turf? If I really felt like that I probably would just say that. It is not appropriate to leave all my teammates out there and not play. So it's not an appropriate question to even entertain. So there are two completely different ways (you can interpret last week's comments). I guess I have to explain it. That was the way I was meaning. Lets not even bring that into the (equation). Because there is no way I would even think like that. I wish we didn't have turf. But we do."
All told, Bakhtiari talked for more than 22 minutes, one of the longer discussions a player has had in the locker room in my 12 years covering the team. In other injury news on Wednesday, WR Christian Watson practiced in a limited fashion, while RB Aaron Jones was not able to go. OLD Lukas Van Ness was limited as says his elbow will be OK. LG Elgton Jenkins did not practice. At Lambeau Field, dsa2s.
Copyright 2023 WBAY. All rights reserved.