Trans-Siberian Orchestra will return with a heavy metal holiday tour, 'The Ghosts of Christmas Eve'
Trans-Siberian Orchestra will return this winter with a holiday tour called "The Ghosts of Christmas Eve."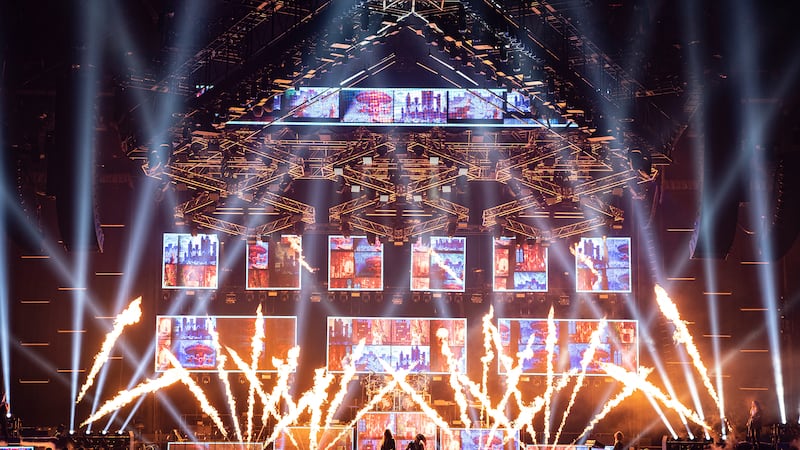 Published: Aug. 28, 2023 at 11:23 AM CDT
LOS ANGELES (AP) — Trans-Siberian Orchestra — the heavy metal, classical music, theater production, pyrotechnics and laser lightshow hybrid — will return this winter.
"The Ghosts of Christmas Eve — the Best of TSO & More," will hit 62 cities and deliver 104 performances in both matinee and evening sets. It kicks off on Nov. 15 at the Resch Center in Green Bay, Wisconsin, and runs through Dec. 30, concluding at the Xcel Energy Center in Saint Paul, Minnesota.
Al Pitrelli, TSO's guitarist and music director, says that since the band started 28 years ago, their winter tours have become a tradition for loyal fans and their families.
"I call them repeat offenders," he jokes.
Pitrelli estimates that nearly half the attendees have been "coming to us since the jump."
Fans can expect a memorable performance that references the band's 1999 "The Ghosts of Christmas Eve" television film and album. The story follows a young girl who runs away from home on Christmas Eve; she's alone, visions come to her, and eventually she makes her way back to her family at midnight, just in time for the Christmas holiday. Singers represent different characters, woven into a narrative by the late founder Paul O'Neill.
Pitrelli believes the reason TSO performances continue to draw people in is found in the story.
"Everybody misses somebody, especially on Christmas," he says. The show provides an arena for people to feel less alone, "wrapped up in the world's biggest rock and roll production," he adds.
The numbers don't lie: As of July 2022, Pollstar put Trans-Siberian Orchestra's box office gross at $769 million.
Tickets for the 2023 holiday tour will go on sale on Friday, Sept. 15, at 10 a.m. local time. Limited $39 tickets will be available for purchase within the first week, or while supplies last. A dollar from each ticket sold will be donated to charity.