Armed search in Howard for suspected national ATM theft gang
Suspects remain at-large after an ATM at Nicolet Bank was damaged
Published: Aug. 22, 2023 at 5:15 AM CDT
|
Updated: Aug. 23, 2023 at 1:20 PM CDT
BROWN COUNTY, Wis. (WBAY) - UPDATE: The Brown County Sheriff's Office has released new video of the suspects in the theft.
--
PREVIOUS: Tuesday was anything but ordinary for people and police in Howard with the search on for someone with possible connections to a gang known nationwide as the hook and chain gang.
Authorities discovered a damaged ATM at the Nicolet Bank on Duck Creek Parkway early Tuesday morning. Hours later they were able to take one person into custody, but they are still trying to track down at least one other person.
There were uneasy moments for people who live in a Brown County neighborhood near the Northern Pines Apartments.
"Just got messages from friends saying what's going on over there," said Thomas Vansistine, who lives near scene of incident. Vansistine said he was shocked to see law enforcement out with K9′s and drones flying over his neighborhood in Howard. "No, it doesn't happen at all in this area when they started setting up tents and that's when we get a little more concerned," he said.
Article continues below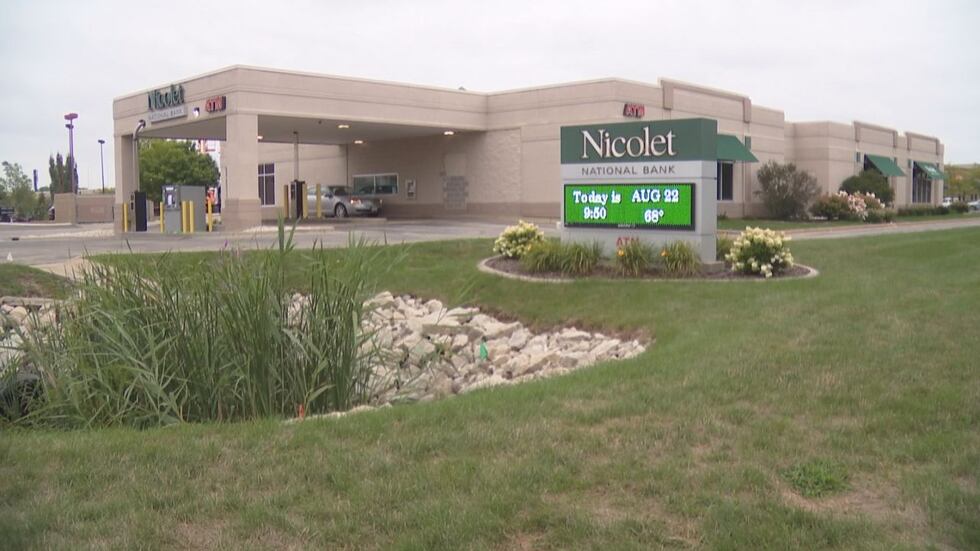 The Brown County Sheriff says it all started around 1:30 a.m. Tuesday when an alarm went off at Nicolet Bank and ATM on Duck Creek Parkway. Officers got there to find the ATM damaged, which are characteristics the Wisconsin Bankers Association says are consistent with of the "hook and chain" gang, known for hitting ATMs across the country.
"The hook and chain gang are tied allegedly to several but not all in Wisconsin," said Rose Oswald Poels, the CEO of Wisconsin Bankers Association. "They have been allegedly tied to the same type of activity really around the country for over a couple of years now."
She says she's thankful banks have surveillance video, which we learned help lead law enforcement identify two vehicles. With one of those vehicles, officers tracked it down during a traffic stop and they took that driver into custody. The other vehicle was found abandoned.
Oswald Poels says banking customers do not need to be worried, saying these criminals are trying to bust open the ATM to steal cash, not your banking information.
"It is always surprising to me That criminals believe that they are going to be able to physically move a machine the size and weight of an ATM machine, they are just so large and heavy," she said.
That bank ATM is out of commission for now.
The sheriff's office wants to hear from anyone with video, such as doorbell cameras, or information that might be related to the investigation. Call Sergeant Breider at (920) 448-4227.
Copyright 2023 WBAY. All rights reserved.