Langer wins the US Senior Open; Stricker, Kelly finish right behind him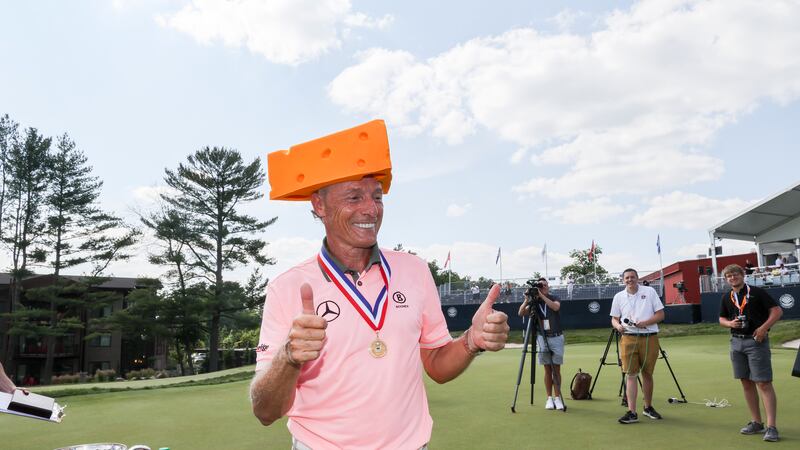 Published: Jul. 2, 2023 at 4:44 PM CDT
STEVENS POINT, Wis. (AP) — Bernhard Langer won the U.S. Senior Open on Sunday at SentryWorld to break the PGA Tour Champions' career victory record.
Pushing his record as the oldest winner on the 50-and-over tour to 65 years, 10 months, 5 days, the German star broke a tie with Hale Irwin for the victory mark with No. 46.
Seven strokes ahead on the back nine, Langer bogeyed the final three holes for 1-under 70 and a two-stroke victory over home-state favorite Steve Stricker on the tree-lined course with thick rough.
"It's been very difficult ever since I won my 45th ...," Langer said during the trophy presentation. "Everybody keeps talking. Wherever I play, people come up and say, `Make this your 46th. Make history here.' It's hard to get away from a it. I did very well and was able to block it out and try to stay in the present. I really felt at peace today, which we don't always do."
Langer finished at 7-under 277, with only eight players breaking par for the week. He shattered the tournament age record set by Allen Doyle in 2006 at SentryWorld at 57 years, 11 months, 14 days.
"There are a lot more aches and pains than 10 years ago," Langer said. "I still enjoy the game. If I play like I did this week, I'm going to keep playing. There have been the odd week when I thought, `What were you doing out here? Go home and play with the grandkids.'"
Also the 2010 U.S. Senior Open winner at Sahalee outside Seattle, Langer extended his record for senior major victories to 12. He won the Chubb Classic in Florida in February to tie Irwin.
Stricker — from Madison, 100 miles to the south — birdied three of the last five holes for a 69.
"It gives all of us hope, I guess, that are out here still playing that we can continue to play as good as he's played for such a long time," Stricker said about Langer. "It's really impressive. I knew he wasn't going to back off today."
Stricker won the first two senior majors of the year and took his hometown Madison event three weeks ago for his fourth Champions victory of the season.
"It seemed like I had a poor nine holes in there every day, and that just ended up costing me the tournament," Stricker said.
Fellow Madison player Jerry Kelly was third at 4 under after a 71.
"I was way too amped up," Kelly said. "I was trying to be settled and calm, but I was talking more than I have all week. I was moving a little bit faster than I have all week."
Two shots ahead of Kelly entering the round, Langer birdied the first two holes for the second straight day.
Langer added a birdie on No. 5, then rounded from a bogey on No. 6 with birdie on No. 7. He opened the back nine with a birdie on the 10th, parred the next five and closed with the three straight bogeys.
Brett Quigley (66) and Rob Labritz (69) tied for fourth at 2 under. Two-time U.S. Open champion Retief Goosen (71), Steven Alker (65) and Dicky Pride (69) were 1 under.
"The rough was difficult and, as many fairways as I missed, I think I did OK," Goosen said. "I was like a cow out there just eating cabbage the whole time."
Copyright 2023 The Associated Press. All rights reserved.