Wisconsin judge allows for lawsuit against fake Trump electors to proceed
A Wisconsin judge has refused to break up a lawsuit filed against 10 fake electors for former President Donald Trump and two of his attorneys, saying the case could proceed in the county where it was filed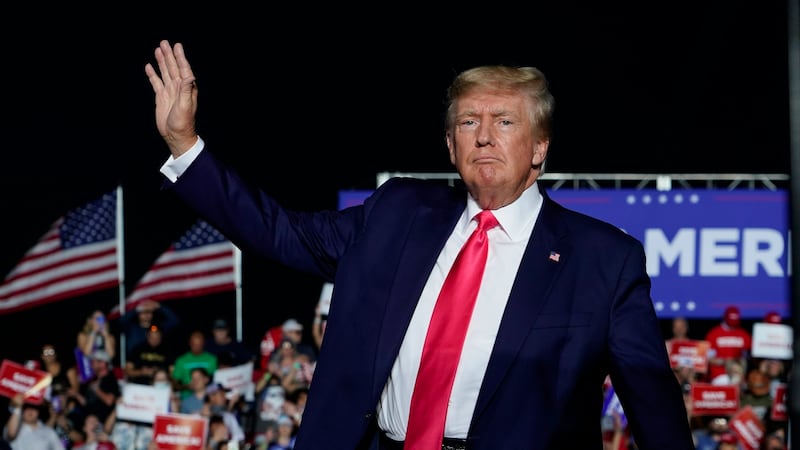 Published: May. 15, 2023 at 2:16 PM CDT
MADISON, Wis. (AP) — A Wisconsin judge on Monday refused to break up a lawsuit filed against 10 fake electors for former President Donald Trump and two of his attorneys, saying the case could proceed in the county where it was filed.
The lawsuit seeks $2.4 million from the fake electors and their attorneys, alleging they were part of a conspiracy by Trump and his allies to overturn his loss in the 2020 presidential race. It also seeks to disqualify the Republicans from ever serving as electors again.
Fake electors met in Wisconsin and other battleground states where Trump was defeated in 2020, attempting to cast ballots for the former president even though he lost. Republicans who participated in Wisconsin said they were trying to preserve Trump's legal standing in case courts overturned his defeat.
Nine of the 10 fake electors in Wisconsin, and one of Trump's attorneys, argued that the lawsuit against them was wrongly filed in Dane County Circuit Court. Since none of them lived in that county, they argued, the lawsuit should be refiled against each of them in their respective home counties.
But Dane County Circuit Judge Frank Remington disagreed on Monday, saying the lawsuit was properly filed because, in part, at least one of the defendants appears to live in Dane County or does not present evidence to the contrary.
One of Trump's attorneys, James Troupis, and fake elector Scott Grabins, the former Dane County Republican Party chair, both live in Dane County. Neither of them provided any evidence of where they lived, the judge said. Neither did Trump attorney Kenneth Chesebro, who practices law in the Boston area.
Attorneys for the fake electors who don't live in Dane County argued that a 2007 state law allows for venue changes to courts in the defendant's home county in cases that relate to elections or election law. The lawsuit alleges that the defendants broke several criminal and civil laws when they met at the Wisconsin state Capitol on Dec. 14, 2020, in an attempt to cast the state's electoral votes for Trump.
Remington said the law requires that the case be heard in Dane County where it was filed.
"Wisconsin law does not allow the problematic consequences of ten judges simultaneously litigating the same claims in ten different courts, or ten juries — some 120 jurors — hearing the same claims and rendering ten different verdicts," Remington wrote.
The lawsuit was filed a year ago this month by two Democratic electors and a voter. They are represented by the Madison-based Law Forward law firm and the Institute for Constitutional Advocacy and Protection at the Georgetown University Law Center.
"Although likely not the last, this was just the latest effort to delay any type of accountability," said Law Forward attorney Scott Thompson. "We are pleased this matter will be resolved in the Dane County Courthouse, just one block from where the fake electors scheme was carried out."
Attorneys for the fake electors did not immediately respond to an emailed request for comment.
Remington last week also revived a complaint brought by Law Forward against the fake electors filed with the Wisconsin Elections Commission. That complaint sought sanctions against the fake electors.
Remington ruled last week that the complaint must be heard again because a commissioner who considered the complaint last time should have recused himself. That commissioner, Robert Spindell, also served as a fake elector and is one of the defendants in the lawsuit seeking damages.
President Joe Biden won Wisconsin by nearly 21,000 votes, a result that has withstood recounts, partisan-led investigations, a nonpartisan audit and multiple lawsuits.