Wisconsin local government aid bill moves closer to passage despite veto threat
A plan to bolster state aid to local governments, which mayors from Milwaukee to the smallest towns and villages have been clamoring for, is moving closer to passage with no changes, despite a veto threat from Gov. Tony Evers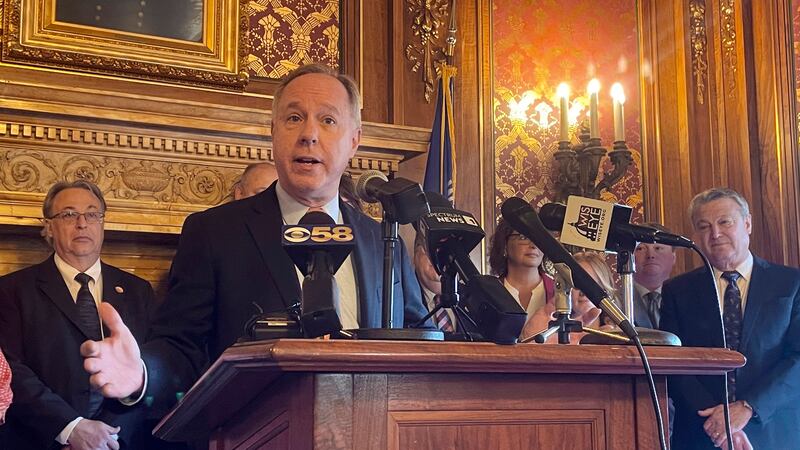 Published: May. 11, 2023 at 11:51 AM CDT
MADISON, Wis. (AP) — A plan to bolster state aid to local governments, which mayors from Milwaukee to the smallest towns and villages have been clamoring for, moved a step closer to passage Thursday with no changes, despite a veto threat from Gov. Tony Evers.
Bipartisan negotiations have been ongoing behind the scenes among lawmakers, local government representatives and others to make changes to the bill to get enough votes to clear the Legislature and be signed into law by Evers. But Republicans offered no changes before passing it out of committee on a party-line vote on Thursday.
"There are no amendments today because there are negotiations still going on," Republican Rep. Todd Novak, chair of the committee, said Thursday. Democrats are involved in those talks, which could yield proposed changes between now and when the Assembly votes on it next week, he said.
Democrats on the committee tried unsuccessfully Thursday to remove portions of the bill unrelated to state aid to local governments, but Republicans rejected it. Democratic members of the Assembly committee said Thursday the bill came with too many strings attached.
For example, the proposal would prohibit local advisory referenda questions, ban public health officials from ordering businesses closed for more than two weeks and cut aid to communities that reduce the number of police officers and firefighters.
It would also mandate that local governments approve projects under the state's land stewardship program that are north of U.S. Highway 8, which runs across roughly the northernmost quarter of the state. Republicans have long raised concerns about such projects that protect the land from future development.
At its core, the Republican-authored proposal will increase funding to counties, cities, towns and villages by $227 million over the next two years, but could only be spent on police and fire protection, emergency medical services, emergency response communications, public works and transportation. State aid to local governments, known as shared revenue, will be tied to the state sales tax and go up with inflation.
Milwaukee could levy a 2% sales tax and Milwaukee County could add 0.375% sales tax to its current 0.5% sales tax. Both would need voter approval, and any money raised would go toward paying for the underfunded pension and public safety services. Once the pension obligations are paid, the city and county could no longer levy the additional sales tax.