Witnesses, video tell different stories about Oconto County bar fight, shooting
Michael Booth's criminal complaint gives new details about a bar fight that resulted in 7 people being charged, including the person who was shot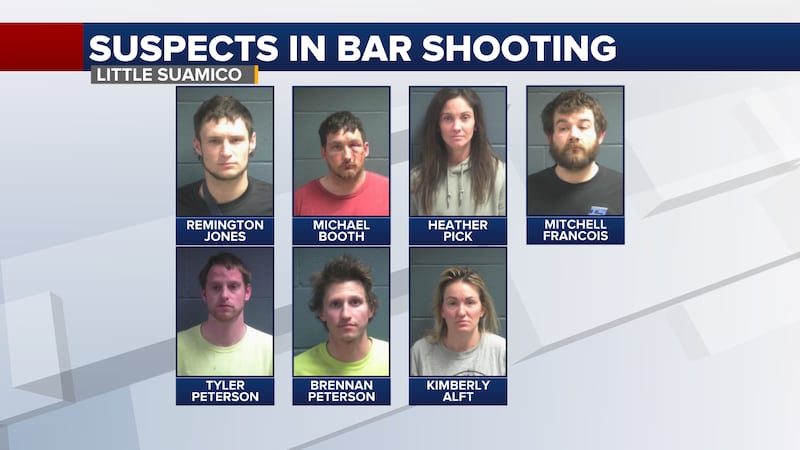 Published: May. 8, 2023 at 12:09 PM CDT
LITTLE SUAMICO, Wis. (WBAY) - The first deputy to arrive at Archie's Heavenly Spirits after a report of gunshots and multiple injuries was approached by two people when he arrived -- a man with his hands in the air and a woman screaming he was the shooter.
The criminal complaint against Michael Booth, 36, provides new details about a fight at the bar that resulted in 7 people being charged -- the version of events through the eyes of those involved and what deputies saw for themselves on security video.
While Booth and other witnesses said the shooting happened during a fight surrounding Booth's pickup truck, the video showed it wasn't the first time Booth pulled out his gun.
The complaint says dispatchers received multiple reports of gunshots from Archie's Heavenly Spirits on County Highway J shortly after 10 p.m. on Saturday, April 29. A deputy was approached by Booth and Kimberly Alft. The deputy says he drew his gun and held it low as he ordered Booth to lie face down on the road, and Booth complied immediately. Booth told the deputy he shot a man in the back of the bar. He said it was self-defense as he was being attacked. The deputy noticed bruises and cuts on the left side of Booth's face as he put Booth, now handcuffed in his squad car.
The deputy said he had to repeatedly tell people who kept approaching him to move back. Later, deputies found two people were trying to open the squad car's locked doors.
The deputy started providing medical treatment to Remington Jones. The bullet went through his wrist, and Jones was going in and out of consciousness. EMTs were staged nearby until the deputy confirmed it was safe to move in.
The bartender had taken the handgun and two knives into a back room after the fight to secure them. Deputies took possession of a Glock 19, which they noted had a spent shell stuck in the action, and the knives.
7 people are charged with disorderly conduct for their involvement in the fights; it's a misdemeanor carrying up to 6 months in jail. Six of the seven were seen throwing punches and are also charged with battery, a felony with up to 6 years in prison. For the shooting, Booth faces an additional charge of endangering safety by use of a dangerous weapon, which carries up to 12½ years in prison.
Michael Booth, 36: Endangering Safety by Use of a Dangerous Weapon, Battery, Disorderly Conduct
Kimberly Alft, 36: Battery, Disorderly Conduct
Mitchell Francois, 27: Battery, Disorderly Conduct
Remington Jones, 25: Battery, Disorderly Conduct
Tyler Peterson, 24: Battery, Disorderly Conduct
Heather Pick, 32: Battery, Disorderly Conduct
Brennan Peterson, 24: Disorderly Conduct
What the video showed
In the criminal complaint, deputies describe video inside the bar showing Booth had several arguments inside the bar with Alft, including times when Alft swung a punch at him. Eventually, Mitchell Francois, who was at the bar with Alft and others, confronted Booth and challenged him to go outside for a fight. Booth pushed Mitchell and they started fighting inside the bar.
After they were pulled apart, Booth walked to his pickup truck, where he took a gun out of his center console and placed it in his waistband in the center of his back. He started walking back to the bar.
His cousin and another man stopped him and appeared to reason with him. Booth put the gun back in his truck, but he removed a straight-blade knife in a case and tucked that in his back.
Alft approached him, followed by Francois. Another fistfight ensued, with Tyler Peterson joining in and getting some punches on Booth. As others broke up that fight, Jones and Alft followed Booth back to his truck. Deputies say Booth was retrieving his gun out of the center console again. His cousin appeared to be trying to prevent him from reaching it while putting the key in the ignition.
Jones opened the door and reached into the truck. A friend of Alft's, Heather Pick, 32, opened another door and got inside. Peterson tried to get in the truck after Pick. Francois opened another door.
Jones then fell backward out of the truck, landing facedown in the parking lot.
After the gunshot, Pick and Peterson left, while Francois appeared to be punching Booth. Alft appeared to be trying to pull Booth out of the truck and struck him approximately 19 times. Francois walked away. No one was paying attention to Jones.
Eventually, Alft got out of the truck and slammed the side door, but she tried to open it again. Booth appeared to be holding the door shut.
Alft walked over to Jones and began tending to him. Pick returned and took a cooler that fell out of Booth's truck during the fight and put it in her car, then joined Alft in attending to Jones.
Booth came out of the truck, holding what appeared to be a cell phone. Alft grabbed his hair and punched him several more times, causing him to fall. Others convinced Booth to get back in the truck, but he climbed out a short time later and walked away, as more people came out and began helping Jones.
Deputies admit in the criminal complaint they don't know from the video what Booth said that was antagonizing the others at the bar.
What the witnesses said
The complaint goes into more detail. Booth told deputies Alft was an "instigator" because she ran into him at another bar before he and his cousin went to Archie's, she doesn't like him, and she tried to get Francois to fight him. He said Francois jumped him as he and his cousin were leaving. Francois hit Booth several times in the face before Booth "took him to the ground." Then, several other men and women joined the fight in what Booth described as a pile.
Booth said he and his cousin got into Booth's pickup truck, where he grabbed his gun from the center console and a knife. At that moment, all the doors to the truck were opened and several people immediately attacked him, punching him in the face and chest. Booth said he warned them to get out, he has a gun and a concealed carry permit. Jones kept punching him, so Booth said he aimed at Jones's shoulder and fired once. The people disarmed Booth, dragged him out of the truck and continued beating him until the deputy arrived and he was able to get away. He believed shortly after he was disarmed Alft had the handgun and pointed it at his head and said she was "going to f---ing kill him."
Alft told deputies after the gun went off, she punched Booth in the face 4 or 5 times. She was being treated with an ice bag on her right hand when deputies questioned her.
Booth's cousin gave deputies his account of how the fight started. He said Alft was followed by Francois in the bar and harassed Booth. The cousin said he tried to de-escalate the situation, but Alft and Pick followed them as he and Michael tried to leave the bar. One of the women, he wasn't sure which, took a swing at Booth before more people jumped in. The fight moved outside. He and Booth got into Booth's pickup truck. The cousin said after he heard a gunshot he got out of the pickup truck and hid behind the bar.
Francois told deputies he came to the bar with Jones, Alft, Pick, and others, and Alft and Pick got into an argument with Booth. Francois said he tried to de-escalate the situation, but Alft and Pick kept going back to argue with Booth, who Francois said was talking disrespectfully to the women. Francois told Booth, "Let's go outside then if you're gonna keep running your mouth," and a fight erupted. According to Francois, after the fight moved outside he heard someone yell "Gun!" and heard a gunshot. He ran toward the gunshot, toward Booth's truck, and grabbed Booth, but seeing Booth didn't have a gun he let go and went back to the bar.
Peterson told deputies he came to the bar with Jones, Alft, Francois, and Pick, and they were having a good time when "all of a sudden" a fight broke out. He said the fight started outside and moved to a pickup truck, where he saw a man with a handgun. Peterson tried wrestling the gun out of the man's hand when the gun fired and hit the roof of the truck or Jones. Peterson said he took the gun into the bar and gave it to the bartender.
The bartender told deputies Booth and Alft were arguing frequently in the bar and he had to break them up several times. At one point he said he heard Booth threaten Alft, "I'll kill you, I'll kill him, I'll kill him, you." The bartender warned the two to stop fighting or he'd shut down the bar for the night. According to the bartender, Francois approached Booth and said, "If you're gonna talk like that, let's go settle this outside." Booth pushed Francois, and they went to the ground fighting. The fight moved outside and the bartender turned on all the lights and told everyone inside the bar is now closed. Someone came into the bar and said, "Call the cops, someone has a knife," then Peterson came in and threw a gun on the bar and said, "Call the cops, someone just got shot." The bartender called 911 and locked the doors, and provided towels to people helping the shooting victim.
A deputy said Alft was incoherent at times and seemed "highly under the influence of intoxicants." Deputies also referred to Booth in the complaint having a strong odor of intoxicants on his breath and his eyes being bloodshot and glossy.
Copyright 2023 WBAY. All rights reserved.