Wisconsin Department of Natural resources warns of tick bites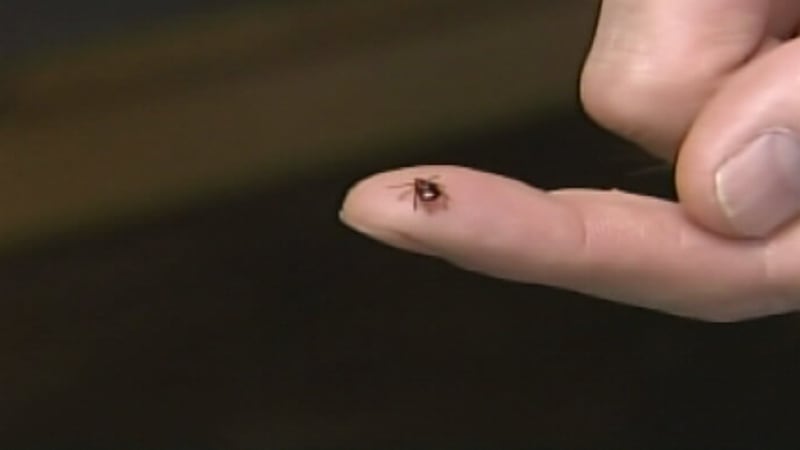 Published: Apr. 22, 2023 at 3:58 PM CDT
GREEN BAY, Wis. (WBAY) - Warmer temperatures are welcome by many outdoor enthusiasts, but unfortunately, with the pleasant weather comes the arrival of ticks.
Ticks bites can cause numerous illnesses, for example Lyme disease - which is reported from the upper midwestern states and the Great Lakes Region all the way over to the northeastern and mid-Atlantic states, according to the Center of Disease Control (CDC).
On the CDC's website, it reads that a first sign of an infection is a red annular or homogeneous rash at the site of tick bite; it expands gradually over several days to about two inches in diameter. A central clearing may develop as the rash expands, resulting in a "target" or "bull's-eye" appearance. It may feel warm to the touch but rarely itchy or painful. Severe migraines occur in 70-80% of infected persons. Fever, chills and general fatigue are also very likely to be felt by people infected.
Untreated or unnoticed early Lyme disease will progress to disseminated disease for about 60% of the patients, with diverse clinical ramifications, states the CDC website.
People treated with appropriate antibiotics in the early stages of Lyme disease usually recover rapidly and completely. It is imperative to see a doctor fast after the first symptoms have been noticed.
In a written statement shared with the media, the Wisconsin Department of Natural Resources (DNR) provides tips to prevent tick bites in the first place:
- Cover as much of your body as possible; ideally, wear long sleeves and pants, tuck shirts into pants and pants into socks.
- Walk in the center of trails where grass and vegetation have mowed or removed.
- Wear light-colored clothing so ticks are easier to spot and remove quickly.
- Use an EPA-registered insect repellent when you head outdoors.
- It is also advisable to treat your clothes with permethrin before heading outdoors.
- Toss your clothes in the dryer for ten minutes on high heat when you arrive home after spending time outdoors.
- Always check yourself, your children, and especially your pets for ticks.
- Ticks like "hidden" spots, for example behind knees, under armpits, around the hairline, and behind ears.
Copyright 2023 WBAY. All rights reserved.