LaFleur: Transitioning from Rodgers to Love will be a "progression'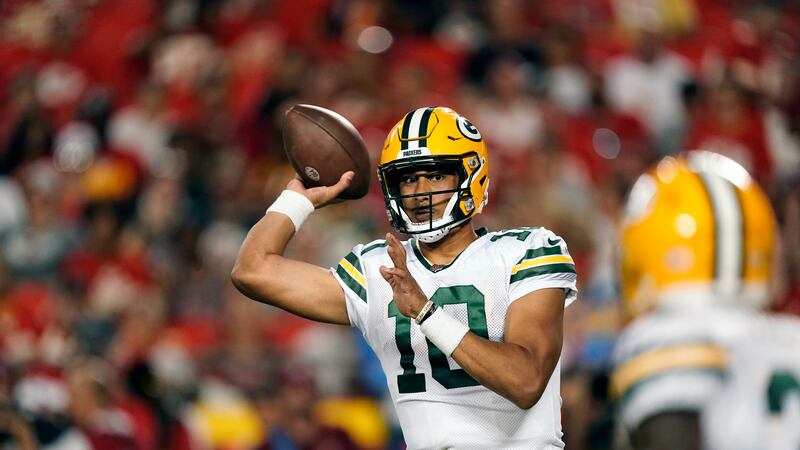 Published: Mar. 28, 2023 at 5:22 PM CDT
GREEN BAY, Wis. (WBAY) - As the front office works on a trade that would send Aaron Rodgers to the New York Jets, the Packers coaching staff must focus on life after number 12.
On Tuesday, head coach Matt LaFleur spoke for the first time during the offseason saga involving his star quarterback, but had little to say on the potential deal itself.
"Listen I am just going to throw it out there right away. I've got nothing but love and appreciation for what Aaron has done for so many in our organization," LaFleur said. "Ultimately, didn't bring home a Super Bowl, which will always be disappointing. He's done so much for myself, my family, our coaches' families, so many people within the organization, other players. A lot of people have been rewarded, quite frankly, because of his ability to go out there and play. I'm not going to get into any of that stuff," said Matt LaFleur.
Three years ago Brian Gutekunst and the Packers picked Jordan Love to be Rodgers' successor in Green Bay.
"I think he just wanted to know what was going on. And for a long period of time I couldn't even tell him, because I didn't quite know where it was headed. And I think there is obviously some clarity to it, but nothing is final yet," said LaFleur.
The transition from a hall of famer to his understudy is something Green Bay is quite familiar with already. Back in 2008 it was Rodgers stepping into the shadow left by Brett Favre. Now it will happen yet again, and the transition will be a "progression" according to the current head coach.
"Certainly, I think we're fooling ourselves if we think he's going to go out there and perform at a level to the likes of an Aaron Rodgers. This guy is a once-in-a-lifetime generational talent, and I don't think it necessarily started that way when he first started. But he progressed into that," said LaFleur.
LaFleur and the coaching staff got a glimpse of the future against the Eagles last season. Love filled in for an injured Rodgers in the second half, throwing for 113 yards and a touchdown with a 146.8 passer rating.
Entering a game in relief is one thing. Being the starting quarterback is another.
"It's different when you're going into a game vs. when you're starting a game. It's going to be a process, but it's going to be exciting for him, for us. I don't think any quarterback can truly do it on their own in this league. It's going to be everybody rallying around him and trying to play at their best ability so that he can go out there and perform as good as he possibly can," said LaFleur.
Copyright 2023 WBAY. All rights reserved.