Giannis triple-double helps Bucks outlast Wizards 117-111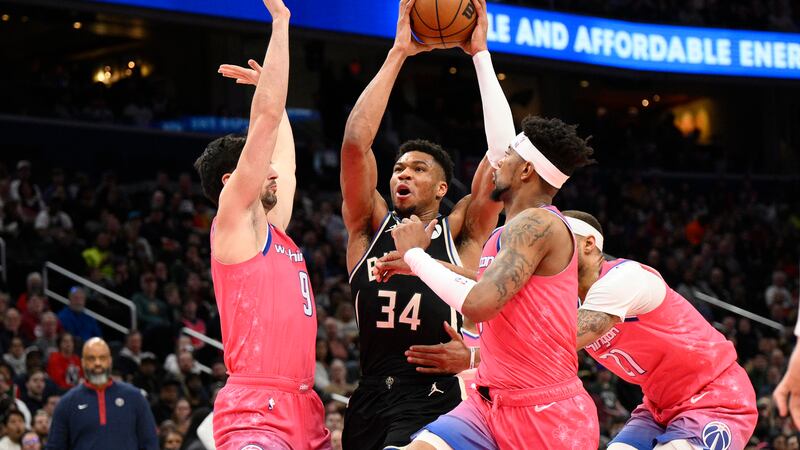 Published: Mar. 5, 2023 at 11:13 PM CST
WASHINGTON (AP) — Giannis Antetokounmpo scored 23 points, had a season-high 13 assists and rebounded his intentionally missed shot with a second left for his fourth-triple double of the season as the NBA-leading Milwaukee Bucks beat the Washington Wizards 117-111 on Sunday night.
Jevon Carter added 20 points while shooting 6 of 10 from beyond the arc, and Jrue Holiday scored 19 in Milwaukee's victory a night after a home loss to Philadelphia snapped a 16-game win streak.
It was just about over when Antetokounmpo dribbled to the basket and lightly tossed the ball off the backboard to himself for his 10th rebound.
"I was thinking about scoring the ball, but I feel like in those situations it's best to kind of keep the ball," Antetokounmpo said. "But yeah, I just try to play the game smart and kind of stole one."
The Bucks made 22 of their 49 attempts beyond the arc, the most allowed by the Wizards this season, while moving 1 1/2 games in front of Boston for first in the Eastern Conference.
"We feel like we've got a lot of depth," said Milwaukee coach Mike Budenholzer, who had six players hit multiple 3s. "We've got a lot of guys that are good shooters that can get hot from the 3-point line. So that's part of a good team and being able to play on back-to-backs and make it through the season and be prepared for the playoffs."
Bradley Beal scored 33 points for the Wizards, who remain 10th in the East and in line for the final play-in tournament spot. Kristaps Porzingis added 24 points and 14 rebounds for Washington, which lost for the second time at home in two nights.
"I'm happy with how hard we played and the product we're giving our fans," Porzingis said after Washington overcame an early 17-point deficit to make the game competitive. "Even though we had these two tough losses, I think it's something positive we can take from these games."
The Wizards gradually whittled away at the Bucks' 11-point halftime lead and finally went in front following a during a run that stretched across the late third and early fourth quarter.
The Bucks responded by making five consecutive baskets, including two 3s each from Carter and Grayson Allen to retake the lead. Then Allen and Joe Ingles hit from beyond the arc again during another 12-4, game-sealing stretch.
"It was just taking the ones that was there," Carter said. "It felt like when I was bringing it down, they just kept backing up, so I just was going to be aggressive in taking the shot."
TIP-INS
Bucks: Rested forward Khris Middleton (right knee) after he played 27 minutes in Saturday's loss to Philadelphia. ... Had two baskets before halftime that were originally called 2-pointers upgraded to 3-pointers following video review.
Wizards: Sat F Kyle Kuzma after he injured his right knee in a collision in Saturday's overtime loss to Toronto. "We've just got to give it a day or two to calm down," said Wizards coach Wes Unseld Jr. ... Unseld challenged Porzingis' foul on Antetokounmpo with 8:19 to play in the third quarter, but it was upheld.
GORAN PLACES
The Bucks signed 14-year veteran Goran Dragic on Saturday as their third point guard, and on Sunday Budenholzer weighed in.
"To get someone of Goran's quality, we feel very, very fortunate," Budenholzer said. "It doesn't have anything to do with the (regular season) schedule. It's the playoffs and having your best team, and your deepest team. And to have as much coverage as possible for every scenario."
The 36-year-old Dragic averaged 15.4 minutes, 6.7 points and 2.7 assists in 51 games before the Chicago Bulls waived him on Tuesday.
UP NEXT
Bucks: Visit Orlando on Tuesday
Wizards: Visit Detroit on Tuesday
Copyright 2023 The Associated Press. All rights reserved.