Slain Milwaukee police officer identified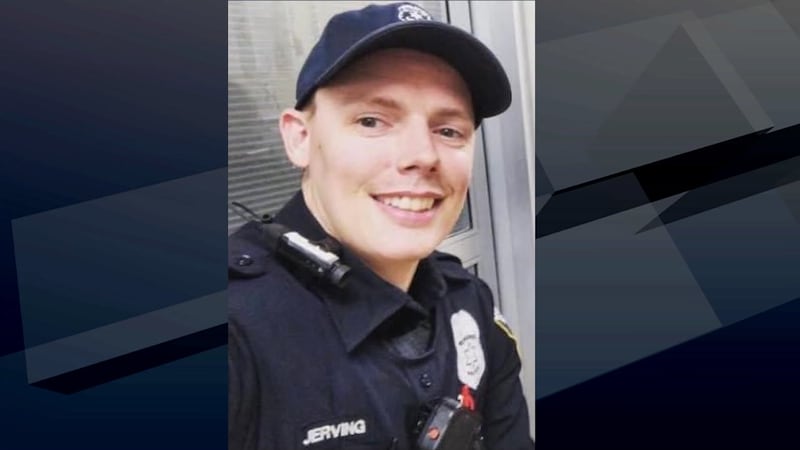 Published: Feb. 7, 2023 at 6:11 AM CST
|
Updated: Feb. 7, 2023 at 4:35 PM CST
MILWAUKEE, Wis. (AP/WBAY) - Milwaukee's police chief identified the police officer who was shot and killed chasing down a robbery suspect Tuesday morning.
Peter Jerving, 37, had been on the Milwaukee police force for four years. The robbery suspect, 19-year-old Terrell Thompson, was fatally shot during an exchange of gunfire and died at the scene. Officer Jerving died at the hospital.
WBAY partner station WISN reports the shootout happened at about 1:15 a.m. near 14th Street and Cleveland Avenue on the city's south side. Police had been called to the 2700 block of S. 14th Street to check for a suspect wanted for a robbery that happened Monday night in the 3600 block of W. Good Hope Road.
Police Chief Jeffrey Norman said the suspect ignored officers' commands and fled on foot they arrived at the robbery scene. One officer then caught up with the suspect and a struggle ensued. Both men fired their weapons.
The chief said it was not immediately clear if the suspect died from the shot fired by the officer or a self-inflicted gunshot wound.
Norman said the city and its police department are in mourning. "Milwaukee, our hearts are heavy. Milwaukee Police Department hearts are heavy. My heart is heavy," Norman told a news conference. "The violence needs to stop!"
"One of our finest, who put on that uniform, put on that badge, went into work last night has paid the ultimate sacrifice for protecting our community. Milwaukee, we need your prayers, we need your support."
Milwaukee Mayor Cavalier Johnson, angry and frustrated, said the entire community, not just police, must play an active role in trying to combat gun violence and making the city safe.
"The men and women of the Milwaukee Police Department, it's not just them — it's up to all of us," the mayor said. "Enough of this, enough of this. There's no excuse for this. This officer should not be dead right now."
As in other communities across America, gun violence has been a problem for years in the city of 569,000. According to a Milwaukee Journal Sentinel database, 224 people were killed in the city last year, 197 people in 2021 and 190 in 2020, about 90% of them shot to death.
The city saw fewer than 120 homicides each year from 2017 to 2019. Guns were still the weapon of choice, though, at around 80% each year.
Milwaukee Common Council President Jose G. Perez said in a statement that the shooting happened just blocks from his home.
"In our city we have too many guns, too many who are willing to carry and use guns, and far too much violence affecting every neighborhood," he said. "We can and we must do better."
Officer Jerving was transported from Froedtert Hospital to the Milwaukee County Medical Examiner's office with a procession.
Later, officers laid flowers on a squad outside the District 4 building in Milwaukee.
Copyright 2023 WBAY. All rights reserved.