Bucks having to find ways to win at less than full strength
The Milwaukee Bucks haven't had much of a chance to show how well they can play at full strength this season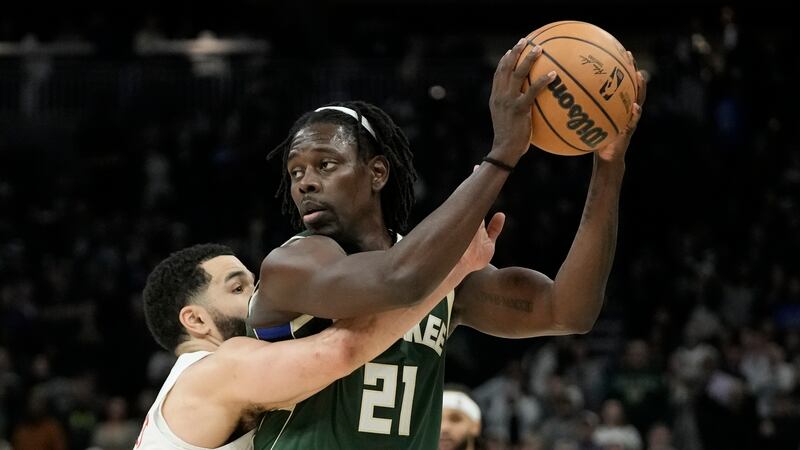 Published: Jan. 19, 2023 at 9:48 PM CST
MILWAUKEE (AP) — More than halfway through the regular season, the Milwaukee Bucks haven't had much of a chance to show how well they can play at full strength.
The Bucks' three biggest stars — two-time MVP Giannis Antetokounmpo, three-time All-Star Khris Middleton and Jrue Holiday — have played together in just five of Milwaukee's 45 games.
That situation has led to some adversity. Since starting the season with nine straight wins, the Bucks have gone 20-16.
"There's been nights where we haven't played as good as we need to," Bucks coach Mike Budenholzer said. "Some nights, it's both ends. Other nights it's one or the other. So we're very much a work in progress. But I think we continue to be confident with the group and excited about where we're going."
The Bucks hope to have a couple of key pieces back soon.
Budenholzer said Antetokounmpo "did pretty much everything" at the Bucks' Thursday practice as they prepare for Saturday's game at Cleveland. Antetokounmpo has missed the Bucks' last four games with left knee soreness.
Middleton had a scheduled day off Thursday but has been working out with the Wisconsin Herd, the Bucks' NBA G League affiliate.
The Bucks' biggest obstacle thus far has been the health of Middleton, who has appeared in just seven games.
After undergoing surgery on his left wrist last summer, Middleton missed the Bucks' first 20 games before making his season debut Dec. 2. He last played Dec. 15 and has been dealing with a sore right knee ever since.
They haven't been as consistent as usual without him.
The Bucks rank 18th in 3-point percentage (.355) after finishing fifth in that category each of the last two seasons (.389 in 2020-21 and .366 in 2021-22 ). They're committing 15.2 turnovers per game to put them on pace for their highest average since 2015-16, when they also had 15.2 per game.
Yet they're still second in the Eastern Conference, four games behind the Boston Celtics but only 1½ games ahead of fifth-place Cleveland. Considering how little the Bucks have been able to play together, the key will be establishing cohesiveness once everyone is healthy.
"It's about the work that's going to go into, as guys come back, making sure we all find a rhythm and chemistry and things together hopefully before the All-Star break but obviously definitely making that push after the All-Star break," guard Pat Connaughton said, "to make sure everyone's in rhythm, everyone knows their roles and responsibilities and we're playing our best basketball come the brighter and sunnier days here in Milwaukee."
The Bucks have stayed near the top of the East thanks to some exceptional individual performances.
Late last month, Antetokounmpo began a four-game stretch in which he averaged 43.3 points, 18.3 rebounds and 7.3 assists. That included a 123-113 victory over Washington in which he scored a career-high 55 points.
Antetokounmpo is averaging a career-high 31 points, though he also has a career-high 4 turnovers per game and has his lowest overall shooting percentage (.524) since 2016-17.
Brook Lopez, who played just 13 regular-season games last year due to a back injury that required surgery, has missed only one game all season. He has career highs in 3-point percentage (.401) and blocks per game (2.5).
Bobby Portis is averaging a double-double with 14.2 points and a career-high 10 rebounds per game.
But it's been Holiday who really has come on lately.
Holiday helped the Bucks win two straight games without Antetokounmpo or Middleton this week by scoring 35 points against Indiana and 37 against Toronto on back-to-back days. Teammates are calling for Holiday to make the All-Star Game, something that hasn't happened since 2013 when he was with Philadelphia.
After the Raptors game, Holiday was asked what makes an All-Star.
"I don't know, if you want me to be completely honest," Holiday said. "You score a lot. You make the game fun. Highlights. A lot of dunks. I don't do any of that, so I don't know how I'm going to be an All-Star. I've been scoring a lot, but I don't dunk. I don't run really fast. I don't scream and shout. I feel like it's entertainment as well as winning.
"That's one thing I think our team has done pretty well is winning, and guys stepping up on our team when our big dogs are down, being able to play well."
___
AP NBA: https://apnews.com/hub/NBA and https://twitter.com/AP_Sports